This post may contain affiliate links. You won't pay a penny more, but you'll help keep It's Dog or Nothing running (websites are expensive!) and the floofs fed (they're even more expensive - as you well know) ;)
Recently, I shared my thoughts on finding a reputable dog breeder and why I believe they're important.
Today, I'm going to share why reputable rescues are extremely important as well. I've come across sketchy rescues over the years. Rescues that pocket the money they get for the dogs rather than using it for their care. Rescues that don't have the dog's best interest in mind.
Some people encounter a rescue like this, have a bad experience, and then swear off rescues. Here are six reasons I support dog rescue, and why I think you should too.
Reason #1: Bella
Sweet, sweet Bella. The Great Pyrenees Rescue, Montana got a call from an older couple wanting to rehome their dog. She was said to be a pyr—although she may have been a Maremma (who really cares though). We drove hours to find a sweet, extremely matted girl on a heavy chain. Bella couldn't have been more than 85 pounds, and even I struggled to lift the chain.
We got her off the chain and on a leather leash. I could barely hold on to her—she was so excited to be free from the chain. This tiny, skin and bones dog was able to snap the leather leash in half and took off. My stomach dropped as I watched her sprint across the property and leap into the lake. After swimming a lap, she came out of the water, shook off, and then happily trotted back to us and let me put her on a new leash.
Bella is now living her best life in her forever home.
Reason #2: Bell
Bell and Bella joined the Great Pyrenees Rescue, Montana at about the same time, making it quite difficult to keep them differentiated. Bell was also an owner surrender and only two-years-old. I went to the home to meet Bell, so I could determine the best foster home for her.
The couple was moving to a home that didn't allow big dogs, so they were only taking their small dog and kittens (I think there were six of them). Bell wasn't neglected, but she wasn't given the love she deserved either. When I went to pick her up, I was given her shot records, some of her things, and the collar they swore by. A shock collar.
That promptly went into the trash. Bell's foster home ended up being her forever home, and she lives an amazing life. The life she always deserved.
Reason #3: Sam
Sam. We tried to get him into rescue, but couldn't find a foster. Without fosters, rescues can't survive. Thankfully, we knew amazing people at a local dog resort who were able to take him for a few weeks. It worked out that we found a foster when I was coming home from Spokane and could pick him up and take him to his foster home in the same trip.
Sam settled into his foster home, and we began the search for his forever home. Sam was an extremely sweet boy, but he had come from the south and was heartworm positive. I did several home visits until I found a family that seemed ready to take in Sam. I don't trust anyone with my dogs, but at that time, I would have trusted this family with my pups.
We finalized the adoption, and Sam made his way to his forever home. We all cheered to see this amazing boy finally get the life he deserves.
Just a few weeks later, I got an email that still makes me cry to think about. The couple's daughter came home from college and was using some very loud appliances. Supposedly, Sam grabbed ahold of her pant leg—no skin was broken. We had never heard of any aggression issues with him even after spending weeks at daycare.
Rather than return him to rescue (per the contract), the vet advised he be put down. After hearing the news and taking some time to calm down, I gave the vet a call. I needed clarity. Was I missing something? Was there a piece of the story I didn't know? I talked to the vet and he told me that the dog was far too aggressive, and he would never stand for that behavior. He also told me that wasn't interested in dealing with heartworm treatment—which was still extremely treatable at that time.
We all mourned the loss of Sam, and set out to honor his memory by helping even more dogs in need.
Reason #4: Rocky
I vividly remember receiving the call about Rocky: "We need transport ASAP. We were contacted by a girl thinking she has a pyr puppy that was being stomped on by local teenagers."
So I drove and was greeted by the sweetest, yet biggest terror, puppy. You would have never known the injuries he had sustained based on his attitude. He came to our house to spend the night and immediately hit it off with Mauja. After playing the night away, we hit the road.
A wonderful veterinarian works closely with the Great Pyrenees Rescue, Montana, and was ready to take him in and determine the severity of his injuries. Long story short, three years later and he's still there. Turns out there isn't any pyr in him, but we love him all the same.
Reason #5: Bud
I've been involved in countless rescues, and I can count on one hand the dogs I felt I needed to keep. Bud was one of the hardest dogs to let go.
We received information about Bud, a 5-year-old Great Pyrenees (Or Maremma. Or mix! We loved him regardless). We were told he was playing with and injuring the livestock, and barking all night, annoying the neighbors. I drove out with Mauja and Atka to do a temperament test, and found a terrified, emaciated dog in the goat pen. It took five people, including the owners, to get him on a leash in a very small pen. My heart broke watching the fear in his eyes.
He was amazing with Mauja and Atka and slowly warmed up to people, but we could tell he hadn't had much human interaction and had probably never been indoors. Mauja and Atka went home with Nick, and I took Bud, who was NOT okay with car rides.
I was worried about the added stress of him being in our house, but we lucked out. Our neighbors were out of town the few nights we had Bud, allowing me to stay with him in their house, avoiding any unnecessary stress. It was then that I got my first true LGD (livestock guardian dog) experience.
After somewhat accepting the leash and a lot of coaxing, we were able to get him inside. Bud was covered in mud so he got a bath, and then we cuddled up on the floor to relax. Exhausted from his bath, we both fell asleep, until he became anxious just a few hours later.
He wanted outside. He wanted to survey the yard. He wanted to check for predators and make sure things were safe. So, we went outside. From 1 am to 8 am, we stayed outside. I sat on the patio drinking ALL THE COFFEE, while Bud guarded the yard—it was amazing to see his instincts and skills come to fruition.
We had a few very long nights, but after several days, we transported Bud to his foster home. As much as I felt I needed to keep him in my life, his foster family "failed" and he's living the good life.
Reason #6: Balto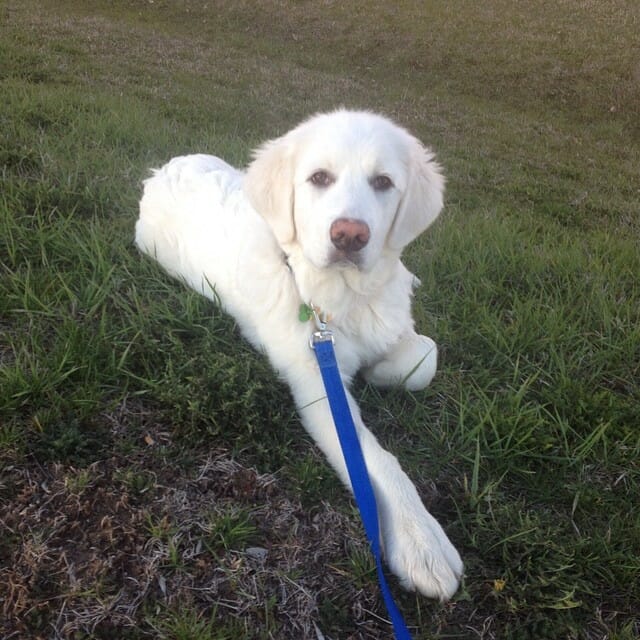 When we lived in Montana, I volunteered at the local shelter walking dogs (didn't need a FitBit to know I got ALL my steps in!). One day, I headed in to walk a few dogs, and there was a 6-month-old Great Pyrenees / Lab mix. He was very excited and couldn't stop jumping, so I was never able to see if he had double dews.
I inquired about the puppy and learned he was an owner surrender. There was a woman interested in him, but if she backed out, he was mine. We even brought Mauja and Atka to meet Balto to see if the foster situation would be easy or more difficult. *Note: the shelter was aware of the intent to put Balto into a reputable Great Pyrenees rescue. I opted to pay the adoption fee to save the rescue money, but also to support the shelter.
A few days later, Balto went to the vet to be neutered, and I was able to pick him up later that day. He was drugged up, but in good spirits, and was excited to see Mauja and Atka again. Balto wasn't interested in eating, so I hand fed him and slept on the floor next to his crate for the few days he was with us.
I was able to find a Great Pyrenees rescue that was able to take him, but they were located in Wisconsin. Distance isn't going to stop me from helping a dog in need. We found a sitter for Mauja and Atka, packed our things, and headed out on the 19-hour trip to Wisconsin.
After a long day and night (and lots of pyr snuggles), we finally reached the rescue—well, what we thought was the rescue. There were dogs running everywhere, piles of trash, and no safe area for the dogs. I remember saying, "If this the rescue, we're turning around and taking Balto back home with us."
Eventually, we realized that we had the wrong location and were able to find the Great Pyrenees Rescue of Wisconsin. My heart melted. I could see the love and care that went into each dog. I could tell the rescue owner truly wanted the best for these dogs.
Saying goodbye to Balto was one of the most difficult things I've ever done. If we were in a different place, he would have found his forever home with us. Thankfully, I know he was able to find an amazing home, and nothing warms my heart more than seeing Balto updates.
There is so much to the discussion about dog rescue and the ways to end the need for it. Check out these amazing blog posts as we work to end the need for dog rescue.
Fidose of Reality | How to Find a Reputable Dog Rescue
Big Dog Mom | How to Put an End to Dog Rescue: 10 Simple Solutions that CAN Work!
Budget Earth | Dog Rescue – How It's Done Right, Or Wrong