This post may contain affiliate links. You won't pay a penny more, but you'll help keep It's Dog or Nothing running (websites are expensive!) and the floofs fed (they're even more expensive - as you well know) ;)
A few weeks ago I was feeling nostalgic and decided to tell everyone about our journey of adding Atka to our family. When we chose Atka as our new puppy, we had brought many towels and zip lock bags along. We used these towels to get Atka's scent so Mauja could start getting used to it until we brought him home. A seemingly endless three weeks later, it was time for Atka to officially join our family.
After talking with the breeder, Nick and I made the decision to fly Atka to us. It would have been a very long drive and we all decided that driving would be more stressful than the quick flight. We scheduled the flight so it would be during his typical nap time and we eagerly (and nervously) awaited his arrival.
At about 11 pm, we arrived at the airport to pick up our new addition. A kind gentleman approached us with a crate while talking about what a hit this little puppy was during the flight. I didn't care what he said – I just wanted him to open the crate and give me my baby! I remember every detail of that moment. Seeing that scared little puppy immediately relax when I had him in my arms. There's no better feeling <3
After a quick potty break, Nick and I headed out. We decided we were going to sleep in two separate places that night to avoid a stressed and tired meeting. I took Atka to the hotel so he could relax and Nick went home to be with Mauja. We wanted everything to go pyrfectly.
Atka slept on my stomach most of the night as he had no interest in relaxing anywhere else. Plus, I just couldn't handle putting him back in that crate so soon. If you've ever had a puppy, you know how those first few weeks go. He whined every few hours for potty breaks, but he always went right back to sleep.
We have a lot of wind in our area so potty breaks were challenging with a tiny puppy. At only 8 pounds, he was by far the smallest of his litter and a bit underdeveloped (you'd never know that now!). For reference, Mauja had weighed 17 pounds at the same age (and that was average for her litter). Add in the massive amount of snow and his little body was not prepared. I had to use my jacket to create a wind barrier so he could potty without being blown over. We had planned on taking Mauja and Atka to an outdoor, neutral location to meet for the first time, but the weather conditions didn't allow for that.
Nick and I decided to do the intro at the hotel. We were both a bit nervous about the first introductions, but hoped our intense socialization with Mauja would carry over to the meet and greet.
Things went better than I could have ever imagined.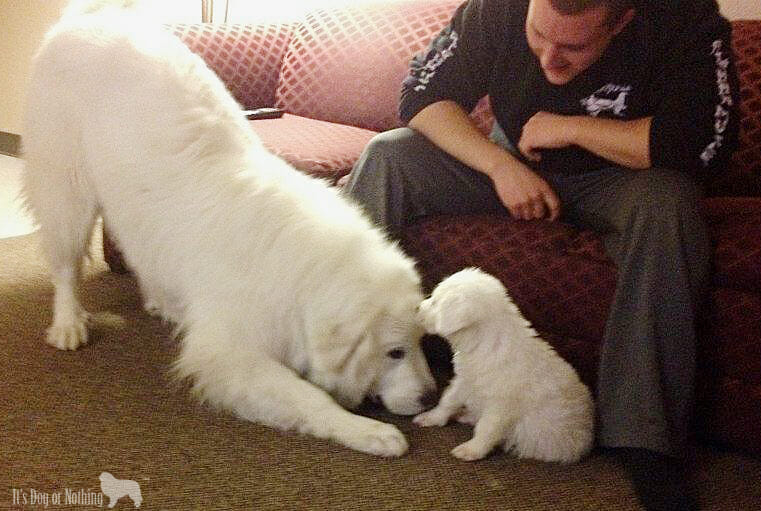 Mauja was so excited to meet this little puppy and was able to contain her excitement enough to be gentle. Atka immediately tried to initiate play and Mauja responded appropriately. Nick and I breathed a sigh of relief and sat down to enjoy our new family.
We knew we weren't completely in the clear since the hotel was not "Mauja's territory", but we were pleased the initial meeting went so well. After they both relaxed, we packed up to head home. Nick and Mauja got back before we did, so they waited outside for Atka and I to catch up. We arrived a few minutes later and Mauja started whining as I got Atka out of the car. She kept heading to the door and then tracking back to help Atka catch up. It was obvious she was eager for him to come inside. After another short play session, they cuddled up for a much needed nap.
Words cannot describe how thrilled Nick and I were to see Mauja and Atka hit it off so quickly. We were shocked at the lack of adjustment period from a one dog to two dog home. I think Mauja really missed having a playmate after Kaeto passed away and was very excited to have that again. Mauja and Atka have been best buddies ever since.