This post may contain affiliate links. You won't pay a penny more, but you'll help keep It's Dog or Nothing running (websites are expensive!) and the floofs fed (they're even more expensive - as you well know) ;)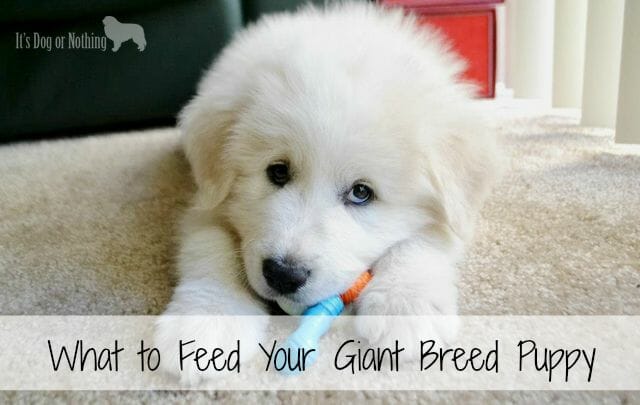 In our society, bigger is better (just look at iPhones these days!). Unfortunately, the "bigger is better mentality" has transferred into dogs, especially giant breeds. Many people want their giant breed as big as possible, as soon as possible. I often see people exclaim proudly, "My 5 month old is already 80 pounds!" However, promoting rapid growth for a giant breed puppy is one of the most detrimental things a new dog parent can do.
Growth in giant breeds is a topic that is starting to be studied more thoroughly. The nutrition we give to a Maltese puppy surely shouldn't be given to a Great Pyrenees puppy, but it happens all of the time. Most of the time it occurs from a simple lack of knowledge and inaccurate data from dog food companies. But just what should new giant breed puppy parents look for in a dog food?
For many years, low protein content was the recommended food strategy for giant breeds. However, that was debunked in 1991 by Nap et al. that found dry matter protein from 23% to 31% did not have an adverse effect on skeletal growth. We know now that there are two important factors when choosing a food for your giant breed puppy: overall caloric intake and calcium level. Both aspects play an important role in your puppy's growth rate which should be kept slow to avoid developmental orthopedic diseases, such as osteochondrosis.
Osteochondrosis in dogs is noted as a disruption in endochondrial ossification that results in a focal lesion. It occurs in the physis or epiphysis of growth cartilage. When it occurs in physeal cartilage, it may cause growth abnormalities such as angular limb deformities in long bones. Osteochondrosis of the articular epiphyseal cartilage commonly occurs in the shoulder, stifle, hock and elbow. – Ed Kane, PhD
The Problem With Excess Fat & Calcium
Giant breed puppies should be kept lean as a primary risk factor for developmental orthopedic diseases (DOD) is being overweight; making calorie control essential. Most veterinary nutritionists recommend diets of giant breed puppies consist of at least 30% protein and around 9% fat. Since most commercial puppy and adult foods often contain 10 – 25% fat, it is important to thoroughly read the nutrition facts prior to choosing your puppy's food. Most raw diets contain 20 – 40% fat which is also too high for giant breed puppies. Giant breed puppies fed a high fat, low carbohydrate diet have been shown to have a high body fat level and increased risk for DOD.
The second risk factor for DOD is a diet high in calcium and excess minerals. A high level of calcium means too high of absorption into the bone structure and furthermore, skeletal abnormalities. These include hypertrophic osteodystrophy, craniomandibular osteopathy, and lesions in the skeleton and joints.The diet of a giant breed puppy should contain approximately 1.5% (or 3 grams/1000kcal) calcium content and 0.8 – 1.0% phosphorus (make sure you include treats in that calculation).
Ensuring Optimal Growth
After finding a giant breed puppy appropriate food, the next step is ensuring an ideal body weight. First, don't free feed. You want to ensure your puppy is getting the necessary food and not any more. Second, ignore the feeding charts on the back of the bag (especially if you have a Great Pyrenees – their metabolism is very slow). The charts are usually grossly overestimated. Instead, go by look and feel of your puppy and try to keep him/her between a 4/9 and 5/9 for Body Composition Score (click here for a detailed BCS chart). Personally, I like to keep my giant breed puppies closer to a 4/9 to keep less weight on their joints.
To Sum It Up
At least 30% protein
Approximately 9% fat
1.5% calcium
0.8 – 1.0% phosphorus
Don't free feed
Keep your puppy at a 4/9 or 5/9 body composition
Feeding a giant breed puppy may be a little difficult, but don't let it overwhelm you. You are setting the foundation for your puppy to have a long, healthy life. While we don't want your puppy to grow too fast, enjoy the little days because they won't last long!
References
Hazewinkel H. "Nutritional Management of Orthopedic Diseases". Applied Veterinary Clinical Nutrition, Fascetti AJ and Delaney SJ, Eds. John Wiley and Sons, Oxford, UK, 2012.
Nap RC, Hazewinkel H, Voorhout G, van den Brom WE, Goedegebuure SA, van 't Klooster AT. "Growth and skeletal development in great Dane pups fed different levels of protein intake". J Nutr. November 1991; 121(11 Suppl): S107-13.
http://ivcjournal.com/feeding-large-breed-puppies/
http://healthypets.mercola.com/sites/healthypets/archive/2012/04/09/slow-growth-diets-for-giant-breed-puppy.aspx