This post may contain affiliate links. You won't pay a penny more, but you'll help keep It's Dog or Nothing running (websites are expensive!) and the floofs fed (they're even more expensive - as you well know) ;)
Nick and I try to get the pups out on adventures most weekends. Recently, we drove about 30 minutes to a popular hiking place in our area. We had never ventured out there before, so we had no idea what to expect. Let me tell you, we should have prepared better. At home, pretty much all of the ice and snow had melted. We put on plenty of layers to keep us warm, but we didn't think about our foot apparel. Frozen toes are no fun.
As we got close to the starting point of the hike, we saw two dogs running through a farm across the road. One was a border collie and the other was a heeler. It was obvious that they were working dogs on the farm, but were still loved and cared for by their family. When we pulled into the parking lot, we noticed that the border collie had followed us over! Mauja and Atka were barking their heads off inside the car as I was freaking out about what to do. The dog was friendly to people, but I had no idea how he was going to react to our dogs. He wasn't running off and kept a friendly posture as our dogs were barking at him, so we decided to test the waters. Thankfully, he was an extremely social boy.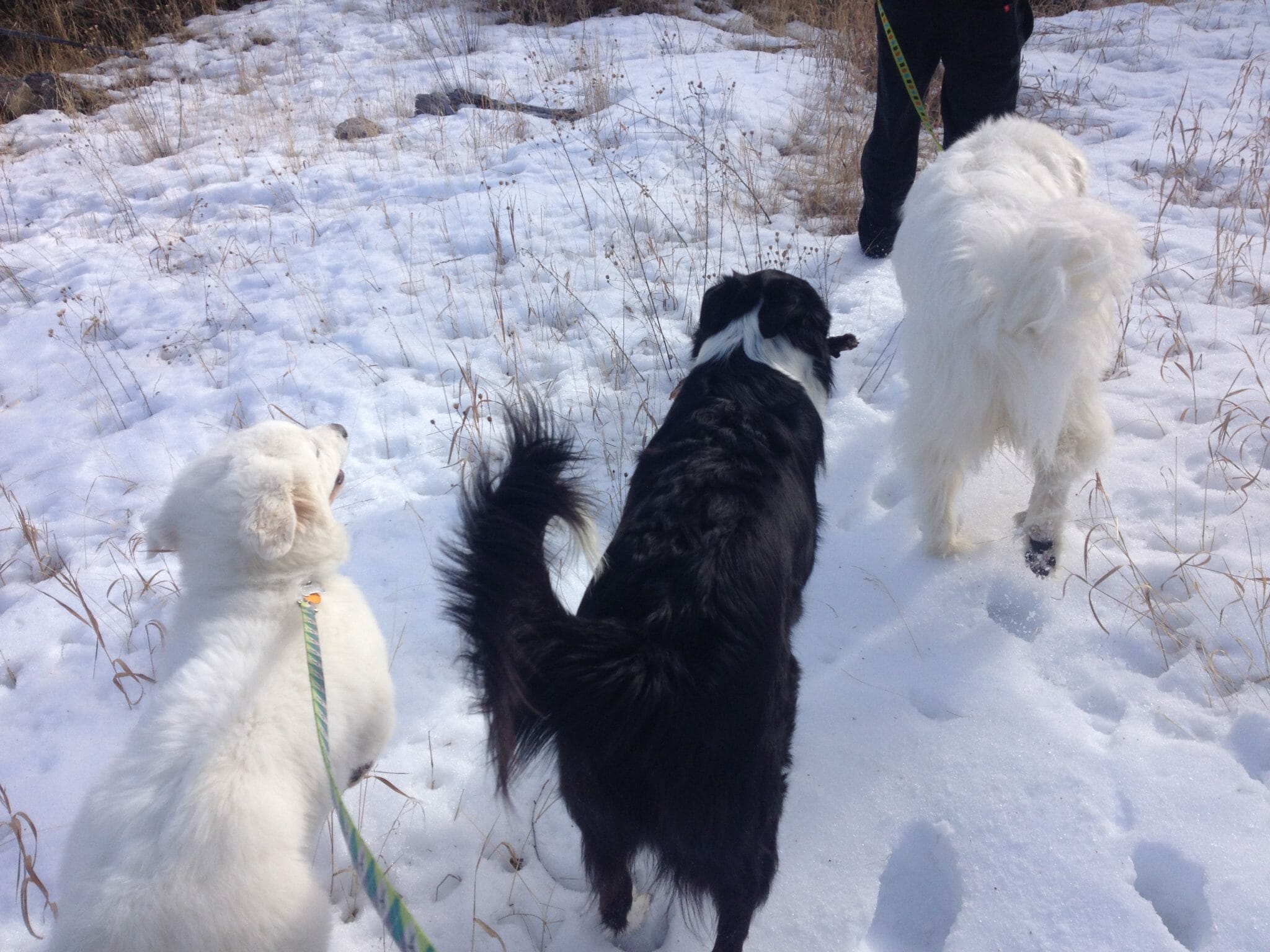 We thought as we went on our way, the dog would run back home. Oh, were we ever wrong! This border collie hiked with us the entire time (which was over an hour!). We occasionally came to areas where we weren't sure which direction to head. Everything was covered in ice so it was a bit difficult to determine the actual path of the trail. Good thing we had our border collie tour guide with us! Any time we would pause to look around, he would run out in front of us and lead the way.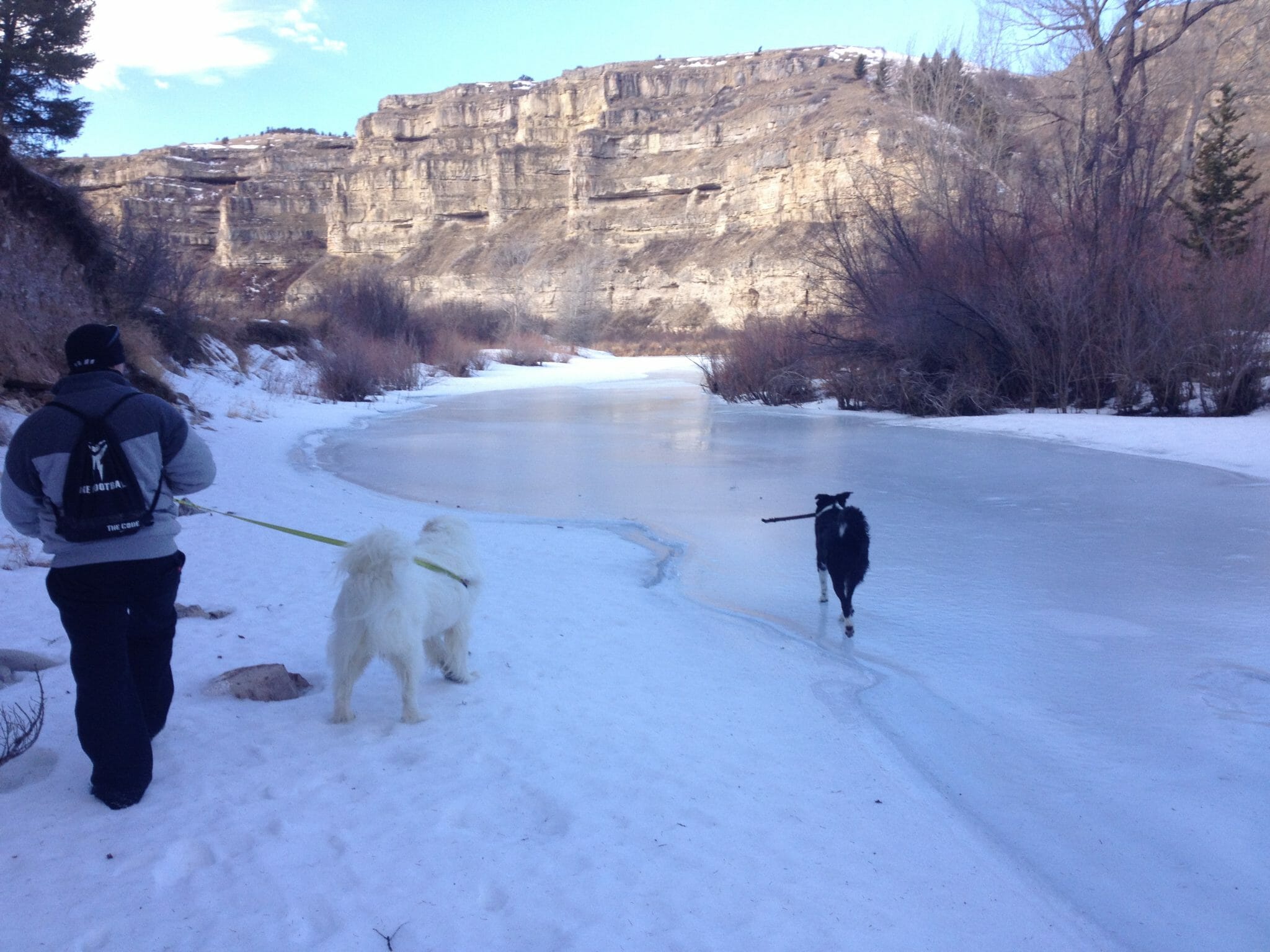 All three dogs had a fantastic time. The border collie loved to find sticks for us to throw. Sometimes, I think his eyes were bigger than his mouth. There was also plenty of snow for them to romp around in. Remember, I mentioned we chose the wrong foot wear? There were areas where the snow was about 6 inches deep. Perfect for the dogs, but horrible for our feet. We may have sat in the car with the heat blasting on our bare feet for several minutes before going home.
When we finally made it back to the starting point, we decided to play some fetch with our new friend. Mauja and Atka were behaving well so we let them off leash to play with the other dog. After about 30 minutes of play time, our pups were pooped. We gave everyone some water and loaded Mauja and Atka back into the car. I'm pretty sure they passed out before we even shut the doors. We said our goodbyes to our new friend and sat in the car for a few minutes to defrost. When we headed home, we passed the farm where we originally saw the dog. He was curled up on the porch chewing on the tennis ball we left with him. What a life that dog has! Take your furbabies out on adventures every now and then. They'll enjoy it and I'm sure you will too 🙂