This post may contain affiliate links. You won't pay a penny more, but you'll help keep It's Dog or Nothing running (websites are expensive!) and the floofs fed (they're even more expensive - as you well know) ;)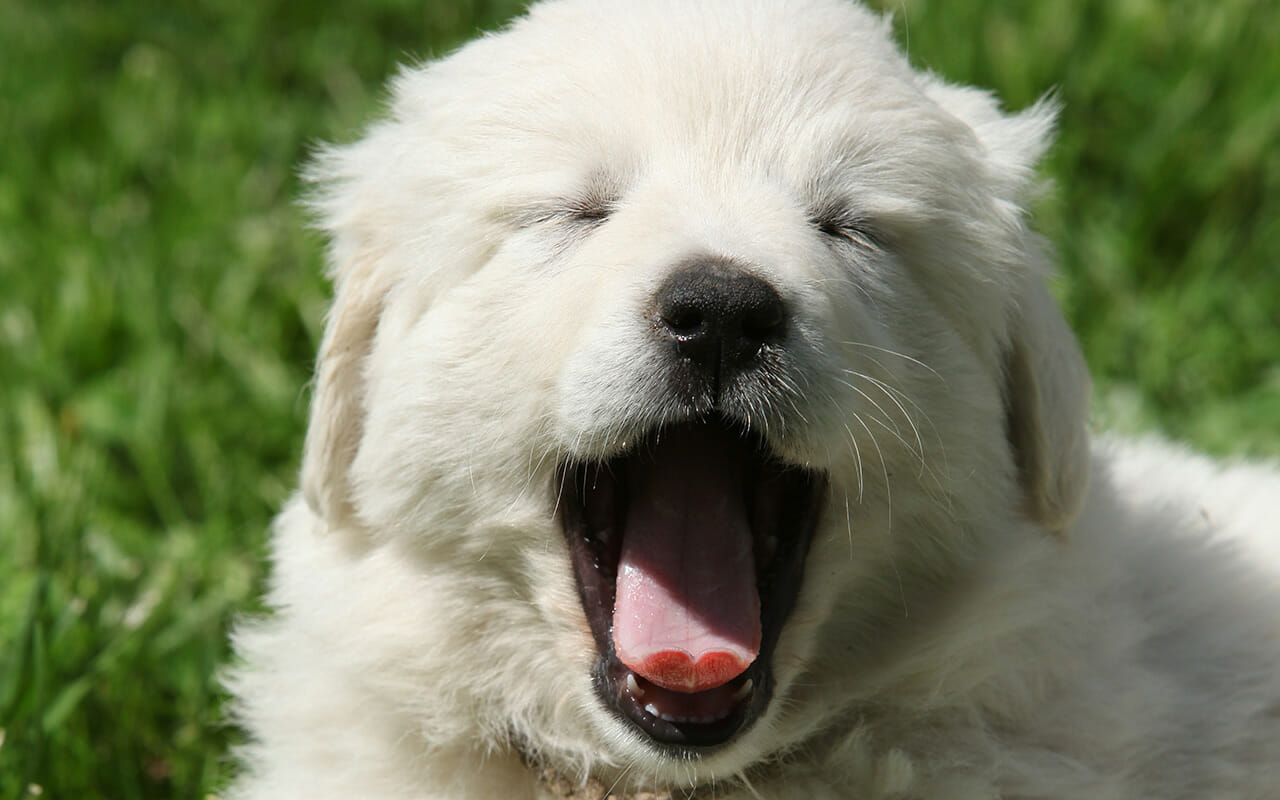 Do you want a Great Pyrenees puppy? Adding a Great Pyrenees puppy to your home is much different than adding any other breed of puppy. It can be difficult, but if you're prepared, you will be setting yourself up for an amazing life with your pyr.
We polled thousands of Great Pyrenees lovers for their best tips about adding a Great Pyrenees puppy to your home.
Food and treats
"Find out what their high-value treats are for when you really need them to cooperate, but recognize that not all pyrs are food motivated." – Emily R.
Great Pyrenees training
"Be consistent with the rules and training! If you let them get away with something when they're cute and small, they will remember for a long time. It may not be as cute when they're an 80-pound teenager." – Lilly N.
"Train from day one the behaviors you want to be followed when the dog is an adult. Don't let the puppy get away with stuff just because it's a cute ball of fluff. It's easier to create good behavior than undo bad habits." – Michelle V.
"They aren't Goldens – they are independent. Don't have the expectation that you can make them behave any differently, and allow them to be themselves." – Kimberley R.
"Training and socializing immediately – be able to put things in their mouths and take away. They become very large, and they need to know they cannot be aggressive or have issues with resource guarding." – @johannbashi
"Start leash training immediately, and do not tolerate pulling! That little fluff ball trying to pull you now will be able to easily drag a full grown man in less than a year. – Jessica Y.
"Don't let them jump up. Your internal organs will thank you later when you teach them to keep those paws off." – Tara P.
Great Pyrenees grooming
"Bathe them, trim nails, and clean ears, etc. from day one so they're used to it. All of mine would willingly walk to and get in the tub because they were used to it from the beginning." – Gail L.
Great Pyrenees socialization
"Socializing is a must, and training is super important, as well. Also, get them familiar with touching paws, mouth, ears, etc. for vet purposes." – Suzanne H.
"Socialize them right from the get-go – lots of walks but don't let them lead. Understand from day one that they think they know more than you." – Dl C.
"Socialize, socialize, socialize. Train, train, train. Embrace the bark. Get a really solid love for fur. – Penny M.
"Socializing and a sense of humor…be patient and invest in a good vacuum!" – Jenn L.
"Socialize as soon as puppy shots allow. Don't skimp on their food to get that full coat and maintain it. Buy the good grooming stuff… and you'll only buy once!" – @mntdogsix
Great Pyrenees temperament
"Don't expect everything to go a certain way or get frustrated when things don't go as planned. Be patient and appreciate your pup's personality." – Julie K.
"Block all the escape routes – they are master escape artists." – Jo-anne S.
"Do your research. If you think you understand the level of barking, realize that in fact, you DO NOT understand (30 mins of "alerting" me to the danger of the neighbor sneezing 2 acres over). – Katelyn M.
"Read, read, read all you can on the breed first. Train early, then love, love, love, and enjoy that baby. They grow soooo fast. – Roseanne A.
"Don't underestimate their speed and NEVER leave the door open ;)" – @debihuston
"Extreme patience and never give up on them." – Dominic K.
"Be gentle. They get their feelings hurt easily. And be aware; they're very smart, but headstrong!" – @d_w_scott
General Pyrenees tips
"I mean, it's pure conjecture, but maybe burn all your black pants in the backyard…" – Bryn N., A Dog Walks Into a Bar
"Love. Busy paws are happy paws. Give them safe things to chew!" – Terryl M.
"Stairs! Be careful with them near stairs. Their fast-growing frame can get damaged if they go racing down and jumping." – @shadowwulf
"Find a good pet sitter so that person will be familiar with your pyr when you need to go away." – Emmy S.
"Keep the chew toys replenished, and remember to enjoy the cuteness through the annoying parts." – @pyr_yoshi_and_fam
"Introduce slowly, and work with all pets together to know they are all part of a pack." – Valerie M.
Most importantly…
"Whatever a 'normal' puppy would do, the Pyrenees will do two times faster, and then over, and over, and over. They have no fear of anything, and if you don't keep the windows closed, you may come home to your Pyrenees puppy enjoying a rooftop moment." – Colin Noel Vickers, Dogslife
We had so many amazing responses, but we couldn't include them all here. Head over to Facebook and Instagram for the complete list of tips if you want a Great Pyrenees puppy!