This post may contain affiliate links. You won't pay a penny more, but you'll help keep It's Dog or Nothing running (websites are expensive!) and the floofs fed (they're even more expensive - as you well know) ;)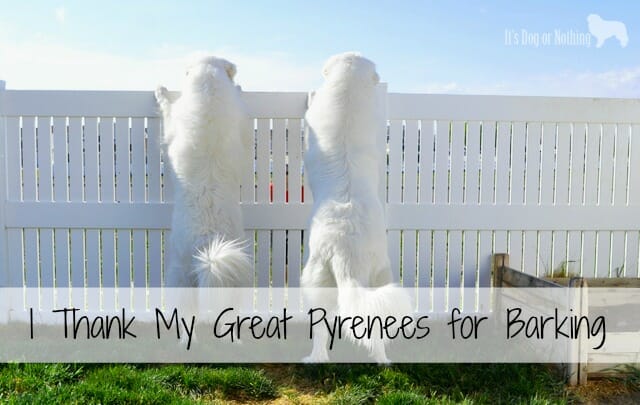 Yes, you read that right. I thank my Great Pyrenees for barking.
Let me explain.
When Mauja first came home with us three years ago (has it really been that long?), I knew that Great Pyrenees barked a lot.
No, a ton. They bark a ton.
I started to research ways to manage her inevitable barking. Bringing her inside, telling her it's okay, teaching 'quiet', and various types of bark collars were all suggestions.
I don't believe in any kind of bark or correctional collar, so that was out. I taught her 'quiet'. I tried telling her, "It's okay, it's just Uncle John". I tried bringing her inside.
The last option was the most successful, but I hated bringing her inside. I didn't want to keep her cooped up when she obviously wanted to be outside.
With Atka finding his voice more recently and Miss Barky Pants Mauja, I decided it was time to try a different tactic. I decided to start thanking Mauja and Atka for barking.
With any dog, it's important to find a way to work with their instincts. Great Pyrenees are guard dogs so I wasn't going to try and stop their barking. That would be an endless battle that would leave everyone frustrated.
Why not thank them for doing their job? Barking, afterall, is a part of their guard dog duties.
We have a 30 second bark rule in our house. If Mauja and Atka have been barking for more than 30 seconds, someone goes outside to quiet them. We don't want to be *that* neighbor.
For the past several months, we have been trying the "thanking" technique. When Mauja and Atka bark past their 30 second limit, I go outside with them. I look around to try and figure out what they're barking at.
Sometimes it's obvious (a biker, dog, etc), while sometimes I truly have no idea what they hear or see (probably a sketchy-looking fly).
In the cheeriest voice I can muster I say, "Thank you! You're good puppies. Good girl, Mauja. Good boy, Atka. Thank you for letting me know! It's okay now." I continue to thoroughly praise them for as long as I feel it's necessary.
Not only does this end the barking, but they both happily prance toward me with their tails wagging. They both come up to me and lean in for some pets and love. Many times I have treats for them as well. I continue to thank them and then go back inside.
While no technique will ever be perfect for a Great Pyrenees, I have had great success with this one. I'm able to end their barking more quickly and overall they are barking less frequently. I'm not exactly sure why they are barking less frequently, but I'm guessing they are realizing I am taking their warnings seriously.
The problem with this method is that not everyone is going to be willing to get up every time their pyr barks (basically every 5 minutes). I just like to think they're helping to keep me in shape! They don't want me sitting for too long 😉
I'm always telling my weight loss clients, "Use your brain for you, not against you." I believe the same thing is applicable to dogs.
Use their instincts for you, not against you.
[tweetthis]Use your #dog's instincts for you, not against you. #GreatPyrenees #PositiveReinforcement[/tweetthis]
Do you have an unconvential way you handle a behavior problem or other issue?