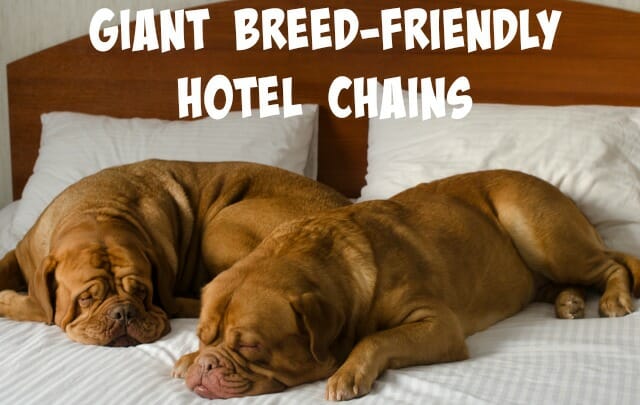 Giant Breed-Friendly Hotel Chains
Traveling with dogs is difficult, but traveling with multiple giant breeds can be quite the frustrating endeavor. Either the hotel only allows one dog, small dogs, or charges a ridiculous pet fee – I've seen hotels where the charge was $20 per pet per night.
That adds up quick.
Being a military family and also one who likes to take their dogs everywhere, we've done our fair share of traveling with dogs. We always make sure we find a giant breed friendly hotel without a pet fee and have had great success with a few hotel chains. Here are a few of our go-to hotels:
*Pet policies can change at any time and vary throughout the same hotel chain. Always be sure to call and double check the pet policy where you plan to stay.
La Quinta
Hands down, this is our number one choice. When we know where we plan to stop for the night, we will do a quick search for a La Quinta. If there isn't one where we planned to stop, we will often change our plans to find one. With over 900 hotels in North America, there's always one around the corner.
Not only does La Quinta allow multiple giant breed dogs, but their rooms are great. Every room we've stayed in has had a fridge and a microwave – if you have food sensitivities you know how important this is! Add on a free continental breakfast and I have a happy husband (and puppies because he always gets them some bacon!).
Kimpton Hotels
After Nick and I got married, we decided to do a mini honeymoon. We had traveled across the country with Mauja and Atka so they could be in our wedding, so naturally, we took them with us!
I can't even begin to tell you how much attention those two drew as we walked through New York City.
During our time in NYC, we stayed in a Kimpton Hotel. I had never been to one, but I was blown away by their pet policy. Kimpton states, "If your pet fits through the door, we'll welcome them in"; and they do more than just welcome them in. From providing bedding and bowls to having a Director of Pet Relations, they have your furry friend covered. Kimpton even allows pets at their nightly wine reception. Need I say more?
Motel 6
If you're looking for an affordable place to catch a few hours of sleep, Motel 6 is for you. Motel 6 has no limit on pet size or number and doesn't charge a pet fee. It's definitely a very basic hotel chain, but it has everything you need and you can't beat the price!
What are your favorite pet-friendly hotel chains?
Pin It!