As much as I hate to admit it, summer is coming to a close here in Montana. We've had weather barely reaching 70 degrees accompanied by a cool breeze. I'm not a fan of fall coming, but the fluffies are itching for some cooler weather.
With the cooler weather this past weekend, I figured it would be the perfect time to take Mauja and Atka to the farmer's market. The market here in town isn't dog friendly, but there is one just over an hour away that is and is even bigger. So, we packed up the dogs, tons of water, and made a quick stop at Starbucks for coffee and puppaccinos before hitting the road.
I had forgotten that there's a huge fire in the area and other parts of the state are dealing with horrible smoke. As we continued to drive, the smell of smoke got stronger and stronger. I did a quick search and found that the air quality where we were going was labeled "good", so we decided to continue on our way. Thankfully, we arrived to find that the smoky smell wasn't really apparent in town.
However, it wasn't all good from there. What's a trip without some issues anyway? 😉 Not too long after parking the car, Mauja threw up and I got stung by a bee. It was a great start to our day… Thankfully, Mauja seemed fine so we decided to peruse the market.
We all had a great time looking through the stands of delicious produce and unique goods. The fluffies were most interested in the stand with homemade dog treats and pupcakes, Yes, we left with pupcakes. Look how cute they are! Well, were. They're long gone by now!
Mauja and Atka were show-stoppers through the entire market making it impossible to walk more than a few steps without stopping to chat with people. I love talking to people about the breed, but this was the most frustrated I had been while out with them in a long time.
Conversation after conversation went like this:
Person: Oh my gosh what gorgeous dogs! What breed are they?
Me: Thanks! They're Great Pyrenees.
Person: Are you going to have puppies? I would love to have a puppy from you.
Me: No, we don't breed – they're both fixed.
Person: Too bad. Seems like they'd make cute, sweet puppies.
Aaaand, this is why there are so many pyrs in shelters. These people never asked about the breed and I had several people simply ask how much they cost (one of the many things to never say to someone with a Great Pyrenees). No one cared about their traits. All they saw were well-behaved, sweet, beautiful dogs. Beautiful dogs that require a lot of work and a lot of patience. A breed that not many should have.
Anyway – after I vented to Nick about these people we left and went to the walking mall downtown. There's several cute shops, fun sculptures, and art pieces where we stopped to get several pictures.
Finally, we went to PetSmart for a fun shopping trip where I could show off my new Tote Tails bag. (which we will have more on in a few days). We let Mauja and Atka pick out a new toy, grabbed some treats, and headed back home.
The fluffies slept the rest of the day and I may have taken a nap myself 😉 I always love getting them out on adventures for socialization and training. Plus, it's great bonding for us to get out together as a family 🙂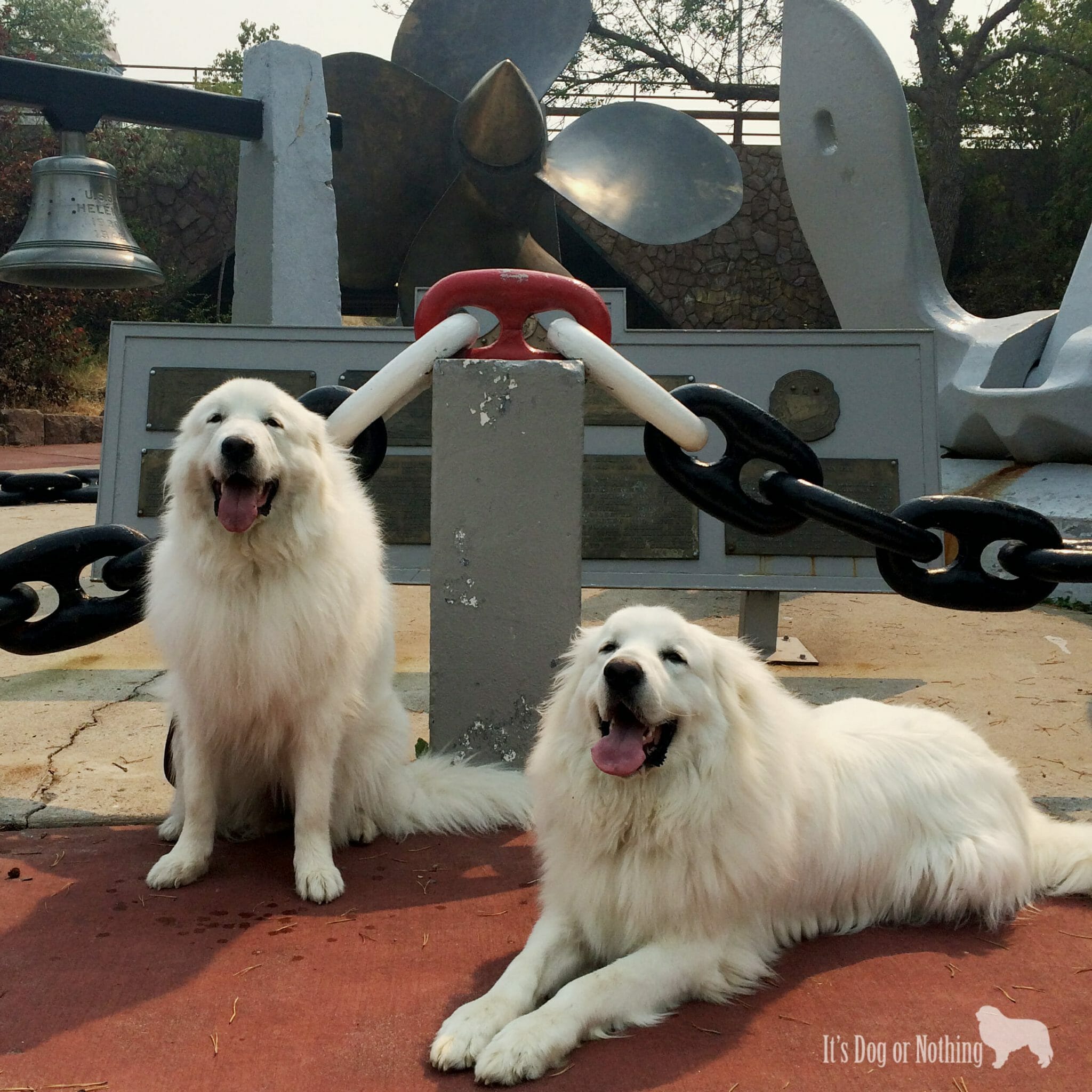 Did you do anything this past weekend with your dogs? Do you have a favorite place to go with them?