I haven't done a post like this in quite some time, but I've had multiple people requesting a weekend adventure post. While this wasn't anything crazy, it was definitely a fun time! Prepare for picture overload 🙂
With our move less than a week away, we wanted to do a few more things before we hit the road. So, we headed out for a fluffy weekend adventure.
First stop, Starbucks.
I knew we had about an hour and a half drive to our hiking destination so we decided to make a stop for some coffee. Mauja and Atka know the Starbucks drive-through and demand their puppaccinos. Normally, the baristas give the pups giant breed-sized puppaccinos, but this time, they were the size of a medicine cup.
The fluffies didn't care – they were just happy to get some whipped cream (and managed to drool all over my hands and the car)!
After our quick pit-stop, we were on our way to Mount Helena!
Mount Helena
Even though this hike was less than two hours away from us, we had not done it in the three years we lived in Montana! I was interested to see how Mauja and Atka would do with such a steep hike since we usually walk pretty flat surfaces.
As you can see, they were ready to go! Oh, and there was a dog in the distance so they had zero interest in posing for the camera 😉
The hike to the top was nothing for Mauja and Atka. However, on almost 9 weeks of a liquid diet, I was feeling the burn! Thankfully, Atka had enough gusto to keep me going the entire way to the top.
After about 45 minutes, we were treated to this extraordinary view.
Mauja and Atka had a blast and put those double dew claws to work! Even though they are clumsy giants, they were able to move through the rocks and obstacles with such ease. Atka kept looking back at me like, "Come on, mom! What are you waiting for?"
The hike itself was fairly uneventful, but it was definitely a beautiful one. I'm glad we took the time to do it before leaving Montana. Mauja and Atka were completely tuckered out by the time we reach the bottom.
New Friends
On Sunday, we headed to the park to meet some friends who have the most adorable Newfoundland ever! I was really interested to see how Atka did with the puppy since he tends to be terrified of puppies. I hoped that even though she was 4 months, her 51-pound body would be deceiving 😉
LOOK HOW CUTE SHE IS!
Not surprisingly, Atka never took to the puppy. When she tried to interact with him, he would tuck his ears and body and then scamper away. Maddie (the puppy) was extremely well-mannered and gave Atka his space. She was also very mellow which definitely helped Atka become more comfortable. Atka was very curious and did try and sneak some sniffs when she wasn't paying attention to him.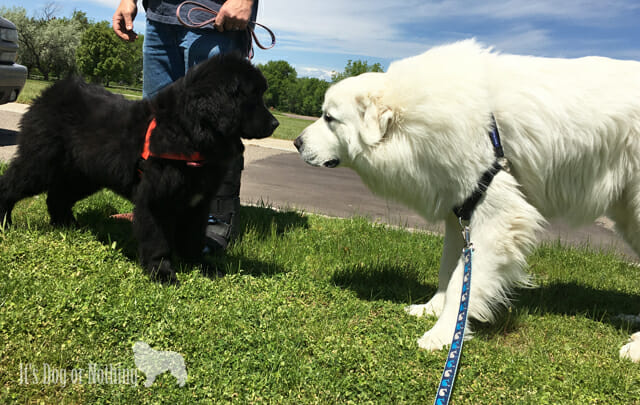 Mauja, being typical Mauja, loved the puppy, but was more interested in getting pets from the humans. That gave me plenty of time to snuggle the puppy! Who could complain about that?
After lots of sniffing and snuggles, all of the dogs were exhausted and ready to take a nap.
We decided to try and get a group shot, which I remembered is insanely difficult with a puppy. Add one dog who didn't want to be near the puppy (Atka) and another who was too lazy to move (Mauja), and we had quite the challenge.
While definitely not our best group shot, all three dogs are in the picture!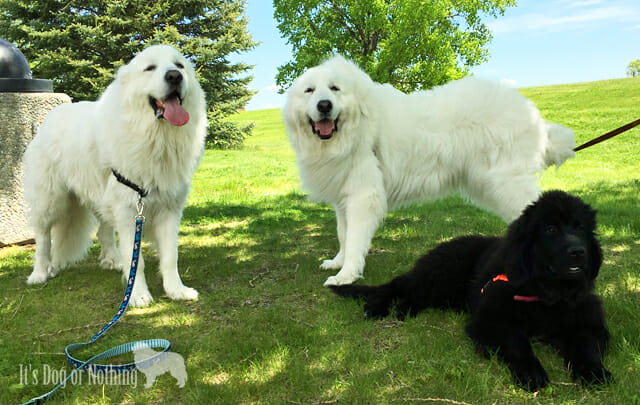 So there you have it – our weekend adventure! What did you do with your dog this weekend?