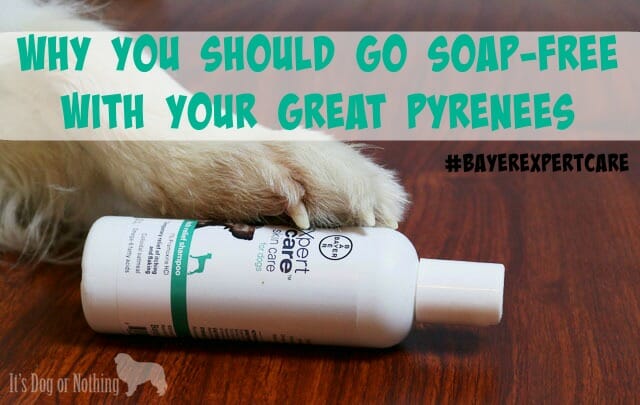 I hear the same question over and over when people meet Mauja and Atka.
"How in the world do you keep them so white?"
I wish I could say that I have some magic formula that keeps white dogs perfectly white, but the Great Pyrenees has a self-cleaning coat. What does that mean (other than the fact that it makes my job a lot easier)?

If your Great Pyrenees enjoys a play session in the river, chances are she will look something like this:
Or maybe your Great Pyrenees will find that one muddy spot in your backyard. He'd probably look like this:
These situations make me so thankful for their self-cleaning coat. Once they dry, the mud/dirt will just flake off! If it doesn't, you simply brush it out and voila – you have your white dog back!
Mauja and Atka get bathed a bit more frequently than necessary; the average Great Pyrenees only needs 3-4 baths per year. The fluffies get about 6 per year, but that is because they are house dogs. However, I know a few people who bathe their Great Pyrenees monthly. The most important thing is to watch their skin and coat health.
Frequent baths can strip the coat of its essential oils. These oils are responsible for keeping the coat self-cleaning, tangle free, relatively odor-free, and silky smooth. The problem really isn't with the bath – it's what is being used during the bath.
Your typical dog shampoo is soap based and that's perfectly fine if you're only bathing your Great Pyrenees every few months. It gets your pyr nice and clean and helps keep their coat and skin healthy. However, more frequent baths require a different approach.
If Mauja and Atka are getting a bath closer together than normal, I switch to a soap-free shampoo. Our current favorite is the Bayer® Expert Care™ Itch Relief Shampoo. I like this shampoo for a few reasons:
The best part about the Bayer Expert Care Itch Relief shampoo is that it can be purchased at PetSmart. We are there quite frequently so it's very simple to just grab a bottle during our normal shopping trip. The Expert Care line has several products to provide ultimate skin care for your dog (or cat) and we've been very pleased with the few we have tried so far.
Have you ever tried soap-free shampoo as a part of your dog's grooming routine?
Pin It!