This post may contain affiliate links. You won't pay a penny more, but you'll help keep It's Dog or Nothing running (websites are expensive!) and the floofs fed (they're even more expensive - as you well know) ;)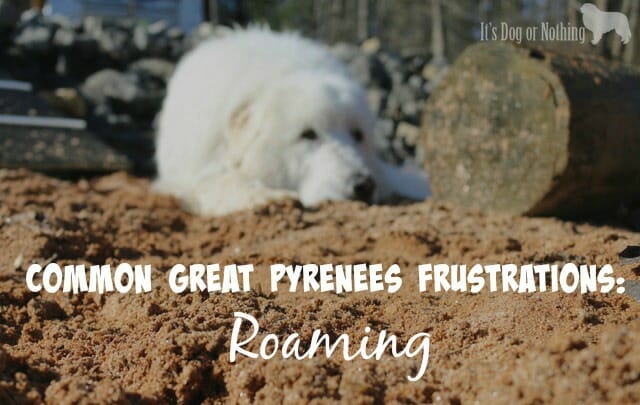 A few weeks ago, we discussed Great Pyrenees barking. Today, we'll be talking about Great Pyrenees roaming. I could give you the simple answer—keep him on leash or in a fenced area— but I'm sure you want more than that.
A common saying in the Great Pyrenees community is, "an off-leash pyr is a disapyr". There's a reason it has stuck all these years.
Before bringing Mauja home, I read a lot on Great Pyrenees and their tendency to roam. I decided to work on Mauja's off-leash skills anyway (foolish).
All was going smoothly until she hit adolescence and her pyr instincts really started to kick in.
I remember the first time she trotted off. She saw a screwdriver on the ground (no idea what that was doing in a field), picked it up, and happily pranced off in the other direction.
Stinker.
Since then, Mauja has been off-leash a small handful of times in areas we are familiar with (like my in-law's lake house). However, it never fails that she decides to go on a walkabout and explore the neighborhood.
She will never be an off-leash dog and that's completely okay; I'm not going to try and fight her instincts. Ultimately, it will just lead to us both being frustrated. Fences are our friends 😉
I have heard of a few pyrs that are trustworthy off-leash, but there are very, very few. Atka is one of the rare Great Pyrenees that can handle being off-leash. He's extremely sensitive and attached to me, so he doesn't stray far.
However, as he continues to mature, we'll see how much this changes. Regardless, I don't want to risk it so I keep him on-leash or in a fenced area. He's too precious to chance it!
When thinking about Great Pyrenees roaming, it's important to remember exactly what the Great Pyrenees was bred to do – protect livestock on their territory. If there isn't a solid territory defined, a pyr will determine his own territory.
A solid territory is defined by a visible fence, not by what you say. Great Pyrenees roaming is instinct and you simply cannot train it out.
A Great Pyrenees is independent, knows his job, and will not listen to your definition of territory. As frustrating as this is, there's still more to it.
More Than an Inconvenience
Sure, Great Pyrenees roaming is a bit of an inconvenience. You have to make weekly, if not daily, trips to your neighbor's house to bring back your pyr.
Your pyr has been picked up by animal control countless times so you always have to retrieve him. Well, there's more than that.
Great Pyrenees roaming is dangerous.
If you live in town, there's a chance your Great Pyrenees could get hit by an unsuspecting driver. If you live in the country, you risk upsetting neighbors to the point of them shooting and injuring or killing your dog.
I have heard of this happening far more times than I care to admit. It's absolutely horrific.
Your Great Pyrenees could also get lost if he roams too far. While they have a great sense of direction, many factors can throw your dog off and make him lose his way.
Electric Fences
An electric fence is a common route for people who are frustrated with their Great Pyrenees roaming around the neighborhood (or whose neighbors are frustrated).
I don't want to be negative, but this typically will not work and I strongly advise against it.
A Great Pyrenees will give his life protecting you so he's not going to be phased by the shock of the electric fence. There's also the added buffer of the thick double coat.
A pyr will most likely grit his teeth through the electric fence and happily be on his way.
Most importantly, it doesn't keep other animals out. While Great Pyrenees are not typically aggressive, they do not take kindly to other animals on their territory.
They are generally able to intimidate predators such as coyotes and bears, but other dogs/animals won't always back down. This could lead to a pyr being deemed aggressive, rather than protective.
I have seen far too many be put down because of a situation like this happening.
Adequate Fencing
Most rescues will require a 6 ft fence or strict adherence to leash walking to prevent Great Pyrenees roaming. Just like any other personality trait, each dog will require a different fence, but this is the general recommendation.
We have a 5ish foot fence that Mauja and Atka have never tried to scale. Then there are pyrs that can easily scale a 6 ft fence, like this guy…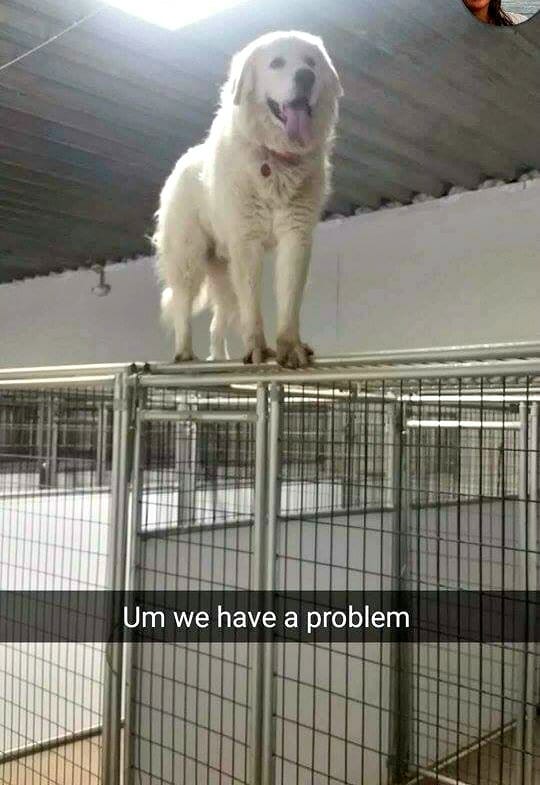 Great Pyrenees roaming is a problem most pyrents can understand. Here are out top tips to prevent your dog from going on a walkabout.
When in doubt, go for at least 6 feet in height and use a material that isn't easy to climb.
Mental Stimulation
While management is the best way to prevent Great Pyrenees roaming, adequate exercise and mental stimulation will help keep your dog contained.
It's important to remember that letting your dog into a fenced yard does not qualify as exercise. Your Great Pyrenees needs to get out and explore his surroundings. Brisk 30-60 minute walks around the neighborhood will help keep your dog happy.
Mental stimulation is an absolute must with the Great Pyrenees. While they may not be interested in training, they are exceptionally smart and need to be challenged.
Don't limit yourself to conventional obedience training. Get involved with agility, carting, nosework, or whatever else gets your pyr excited. It's not always easy to find their excitement, but trust me, it's there!
Great Pyrenees roaming is frustrating, but more importantly, it's dangerous. Pyrs will do whatever it takes to keep us safe and it's our job to do the same for them. If you don't have a fence, consider investing in one or commit to keeping your pyr on-leash.
How do you prevent/manage Great Pyrenees roaming?