This post may contain affiliate links. You won't pay a penny more, but you'll help keep It's Dog or Nothing running (websites are expensive!) and the floofs fed (they're even more expensive - as you well know) ;)
My husband had this wonderful idea.
"Let's get a desk since you're spending so much time on your computer lately."
It was true. I have been glued to my laptop for the past few weeks. Between starting a new blog, wedding planning, and getting organized to start volunteering with Big Dogs Huge Paws and the Great Falls Animal Shelter, I have been spending a lot of time online. I also have a huge binder for each of these tasks in my life. I think Nick was getting tired of having my binders, papers, and laptop all over our couch. Mauja and Atka didn't care much for it either. I mean, come on, I was taking up their napping spots!
So, off to Office Max we went. I am one of the most indecisive people and it took about an hour alone for me to decide on a desk! Their selection wasn't that big either… We finally chose a desk and chair, got home, and decided to put it together right away. We had quite the lovely evening ahead of us. We took the entire room to lay out all the individual pieces and immediately the dogs started walking all over them.
"OH MY GOSH DON'T LET THEM SCRATCH OUR NEW DESK!"
The solution? A barricade of whatever we could find sitting around (a tv box, chair, and printer box). Lovely items to have sitting around, right? For all of those who don't believe in dog emotions, I dare you to listen to a dog temper tantrum, especially from a pyr. There were so many whines, grunts, yips, and noises I don't even know how to describe.
After about an hour of their pathetic looking pouty faces, we decided to allow them over with us. But! They must stay in the corner away from all the pieces laying around. Yeah, that lasted long. The directions used an incredible number of dowel rods to hold the pieces together. Atka thought they were the most perfect chew toy. Even when they were already in place in the wood panel, he would try to chew on them. Just one "Atka…no", was enough to make him pout again.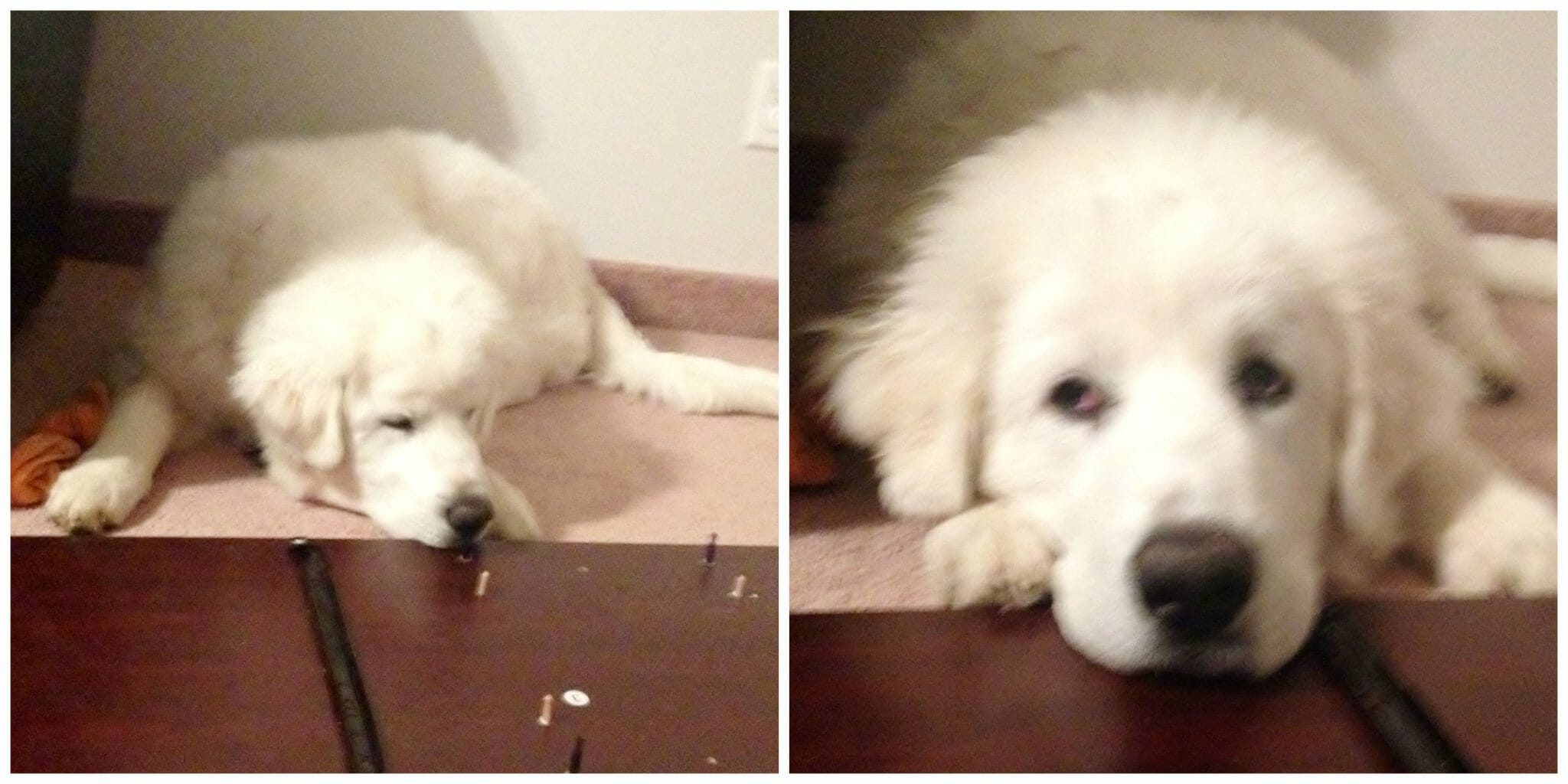 While Atka laid around pouting, Mauja was being… Mauja. She can be quite the character sometimes. She shoved her body in the space between the couch and a piece of wood, tried to walk off with a bag of screws, and then rolled through my perfectly organized piles of hardware. The only way to get her to stop making bad decisions was to let her cuddle with me as we worked. Apparently, she didn't like that her evening cuddle time was being ruined. It took us about four hours to complete the entire desk. I have no doubt it would have been a much quicker project if the pups didn't insist on helping. Thankfully, about half way through they decided they were so bored they would just nap instead (within close proximity, of course).
We should have known it wouldn't last long. They started to get feisty. Good thing the desk was just about complete at this point!
Moral of the story?
Never build stuff with dogs around.
Anyone have a similar experience? I'd love to hear about it!