This post may contain affiliate links. You won't pay a penny more, but you'll help keep It's Dog or Nothing running (websites are expensive!) and the floofs fed (they're even more expensive - as you well know) ;)
Monitoring Mauja's Health with CheckUp
When Mauja was a puppy, frequent urinary tract infections were a big problem. The issue started when she was about four months old and continued until she was 10 months old. I cannot even imagine how much discomfort that caused her.
While "marking" is generally attributed to male dogs, it's fairly common in female Great Pyrenees as well. As guard dogs, letting intruders know your territory is important. I had read this fact about pyrs and when Mauja started peeing in short bursts, I wondered if she was already beginning to mark. I didn't think it would start at four months, but you really never know.
When I noticed this new behavior, I wasn't immediately alarmed. The day after the behavior began, she peed in the house, something she hadn't done in quite some time. While still a puppy, it was very plausible that she just got distracted playing and forgot. Even though I knew it was highly likely, I wasn't convinced. The next day, we had a visit with our vet.
Sure enough, poor Mauja had a UTI. She was put on medication and a cranberry supplement and we scheduled our follow-up appointment.  After a few days, Mauja wasn't showing any signs of improvement so back to the vet we went for stronger meds.
Finally, we got the UTI cleared up. A few weeks later, I noticed the same symptoms. Back to the vet.
Another UTI.
This time, the vet had us change her diet as well. After a few weeks, she felt better and I thought we were in the clear.
Wrong.
A few weeks later it happened again. And again. I can't remember how many she had in a row at this point. While she never showed any signs of pain, I can't imagine that she was feeling very well.
We were about to take the step to more invasive procedures when the UTIs finally went away for good. Thank goodness.
Mauja hasn't had a UTI since that spree, but I'm not willing to chance it. We've taken several trips to the vet just to find out that she's healthy. Not only is it a lot of money, but Mauja hates going to the vet. She doesn't need another thing to be stressed about.
CheckUp At Home Wellness Test
Trying the CheckUp wellness test has been on my to-do list for quite some time, but I kept pushing it aside for some reason. When I was approached about trying it, it was the kick in the pants I needed to get going.
CheckUp is a tool that allows you to test for common issues in dogs in the comfort of your own home. These include:
High glucose levels
Kidney failure
Urinary tract infection
Blood in urine
While not a complete substitute for a vet visit, it can help to prevent you from making unnecessary trips to the vet. If you have a dog who struggles with vet visits, you know just how much stress you'll save your dog by doing a quick test at home. It really is a quick test and I completed Mauja's in under ten minutes (that includes following her around and trying to get her to pee). It takes just a few easy steps to complete:
Assemble the included pole. It really takes like ten seconds and couldn't be easier.
Collect a sample of your dog's urine. Now, this is definitely the toughest part, especially if your dog is picky about her "pee spot". I absolutely love that CheckUp comes with its own pole and collection cup. You can't even imagine how many "pee ladles" and tupperware containers I went through with Mauja!
Fill the included vial with the collected urine for testing.
Dip the testing trip.
Read the results. That's it!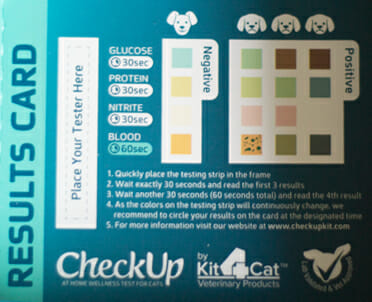 I didn't take pictures while completing the test because I wanted to make sure I did everything on time to get an accurate reading. Everything came back normal for Mauja, but I wasn't anticipating any positive results. However, I do plan on keeping a few of these around the house for future incidents. I know she's going to display symptoms again and I'd much rather do this at home test than put her through a stressful veterinary visit. At only $14.99 a kit, it's definitely worth it!
Would you use CheckUp for your dog (or cat!) before deciding to go to the vet?
Pin It!

Disclaimer: I was compensated to help spread the word about CheckUp. Don't worry – an advertiser will never influence the content of this blog and we only share products we use and believe in!