This post may contain affiliate links. You won't pay a penny more, but you'll help keep It's Dog or Nothing running (websites are expensive!) and the floofs fed (they're even more expensive - as you well know) ;)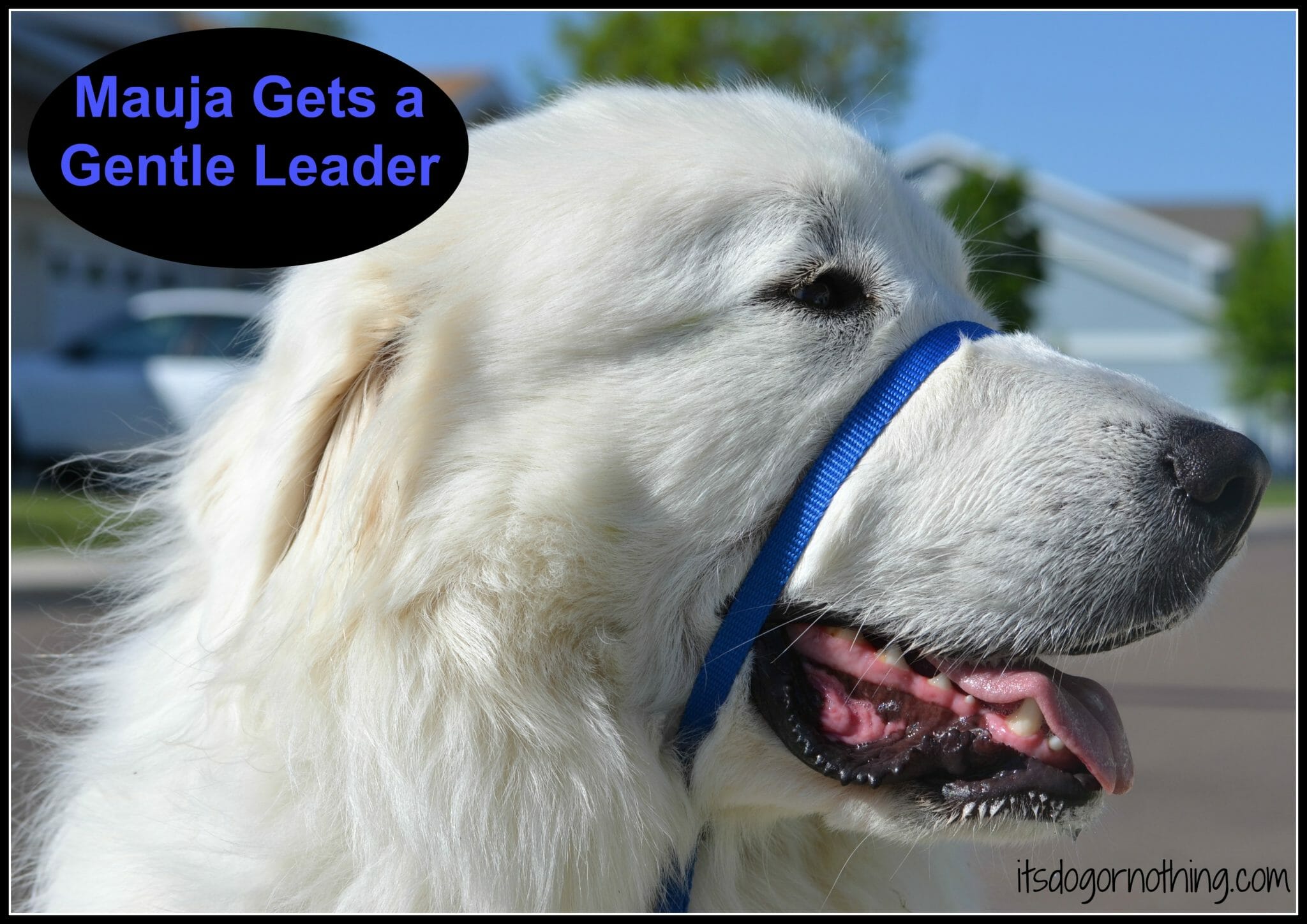 Mauja was always our pyrfect angel of a puppy. She has a wonderful disposition and excelled through her obedience classes. She went everywhere with us and absolutely loved it. As she hit her adolescence, her enjoyment of new places slowly started to change. She began to exhibit anxiety in new situations, which led to poor manners. As with most adolescent dogs, her self-control started to become very poor. Her anxiety coupled with her lack of self control have been getting progressively worse.
We are constantly working on self-control exercises in our house. From the moment a dog enters our house (even if they are only 8 weeks), they are taught to sit and stay when waiting for their food. We practice the "Nothing in Life is Free" philosophy in our house as well.
Most people don't know that giant breeds stay in their puppy to adolescence phase until they are at LEAST three years old. Many don't fully mature until age 4 or 5. I've heard a lot of people say, "Oh yeah, my lab/pit/golden won't mature until that age either". These are very different concepts. A lab or other medium to large dog will most likely have excess energy until they are that age, but they are fully mature (mentally and physically) way before then. A 3 year old giant breed and a 1 year old medium breed are typically around the same mental mark.
Having a 100 + pound puppy with minimal self-control and anxiety isn't the easiest thing to deal with. We try and continue to take Mauja to new places and use positive reinforcement to lessen her anxiety. Unfortunately, when Mauja gets worked up the tastiest treat in the world won't get her attention. She goes into a panic mode.
Since the systematic desensitization and positive reinforcement weren't making a difference, I decided to try a new tactic. Off we went to get a Gentle Leader.
Our first dog, Kaeto, was a leash reactive dog. We used a Gentle Leader on him to help keep control so I could have peace of mind in public places. He also loved squirrels and was surprisingly strong for a 50 pound dog. I remembered how effective the Gentle Leader was for him and decided it would be my new strategy for Mauja.
After a few days of letting Mauja get used to the Gentle Leader, we decided to test it out. She was not a fan. She tried to rub her face against us, Atka, and the ground to get the Gentle Leader off. I wasn't surprised. They take a long time to get used to.
After we had walked around for a little, I decided to test some of her triggers. We walk past a lot of yards with dogs in them and Mauja always tries to drag us over to say hi. The Gentle Leader basically forces her to utilize her self-control. She would pull toward the dogs, feel the pressure from the leader, and then come back to a proper walking position. Gently adding tension was all she needed to understand to exercise her self-control.
We are starting out very slowly and only working with triggers in situations where she is comfortable. Hopefully, in a few weeks we will be able to take her on an outing to Petco to see how she handles herself. So far, I'm very impressed with how the Gentle Leader is helping her control herself. It is going to be a great tool until we can achieve some calm and success with positive reinforcement.
Have you tried a Gentle Leader? How did it work for you?
If you would like to learn more about how to properly utilize the Gentle Leader for training, leave a comment below! I will happily do a video tutorial explaining the process.
There's still time to enter our giveaway!
I am joining the Monday Mischief blog hop brought to you by Alfie's Blog, Snoopy's Dog Blog, My Brown Newfies.