This post may contain affiliate links. You won't pay a penny more, but you'll help keep It's Dog or Nothing running (websites are expensive!) and the floofs fed (they're even more expensive - as you well know) ;)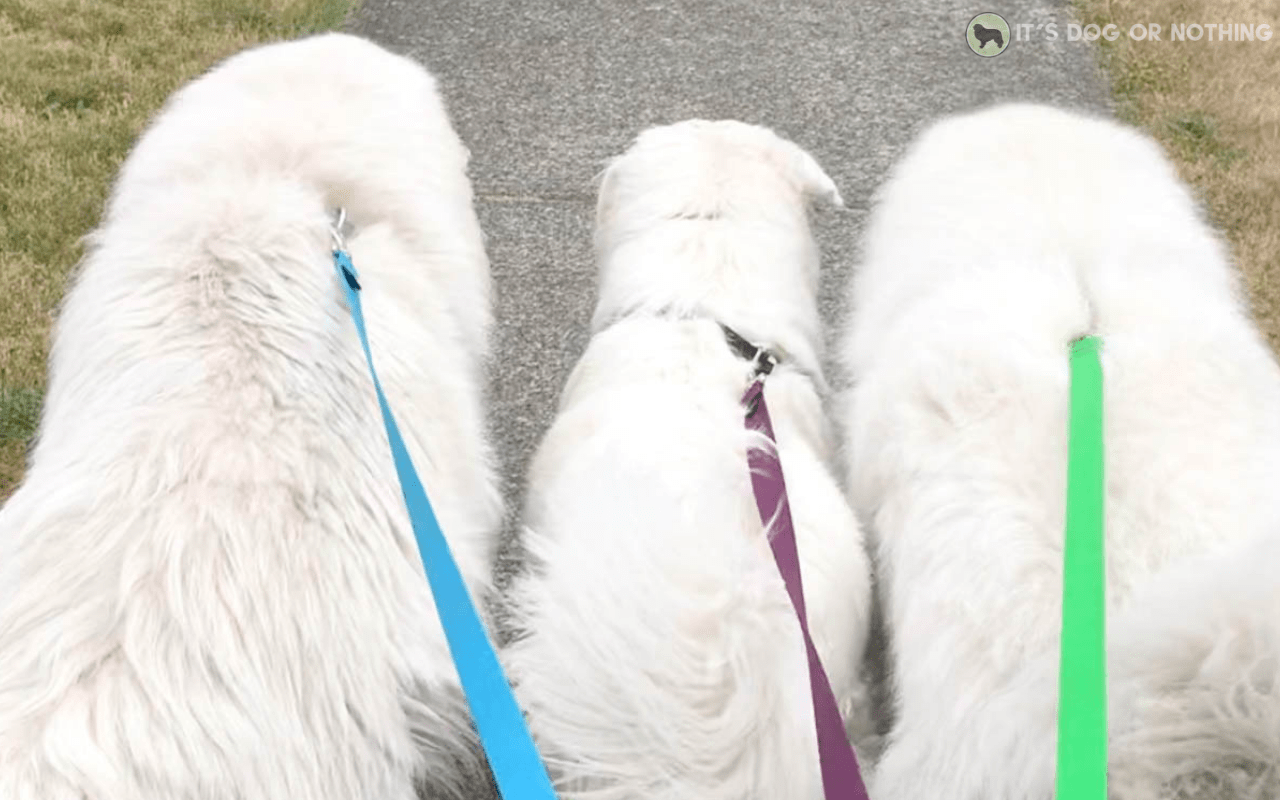 Great Pyrenees. I could talk about them all day — ask anyone who knows me 😉 On It's Dog or Nothing, I'm always trying to educate about the breed to help people decide if it's the right fit.
Instead of me rambling on again, I asked thousands of pyr lovers for their advice to new or prospective pyrents. So many people submitted wonderful responses that I couldn't include them all in this post. However, the links to all the Great Pyrenees tips are at the bottom of this post.
Top Great Pyrenees Tips:
"Get over thinking you can stop the barking. It can be managed, not stopped." – Karen Pike
"Barking is innate. Just deal." – Nicole Bethea
"Don't continuously yell for your Pyrenees to come. They may see or hear something you didn't; they may be in a trance. Go out and thank them and pet them to get their attention, then walk them inside." – Cammi Lynn Brown
"Teach them to sleep when you sleep." – Val Wilkerson
"Leave your ego out of it. They're not purposefully defying you, they're operating with an instruction book written thousands of years ago. Don't fight it, work with it." – Christi Sullivan
"Positive, consistent training from the beginning! Patience in spades. Their feelings are hurt easily, and they have memories like elephants. Rewards will be a thousandfold." – Linda Price Romeika
Related: A Beginner's Guide to Great Pyrenees
"Don't believe they can't be trained! They have a different mindset, yes, and you have to learn to be a partner. But they can do amazing things!" – Laurie McDonough Greaney
"Don't expect your dog to do anything you want it to." – Cheryl Apfel Wise
"Sense of humour and patience are a must! You will not get by without them." – Erica Kelly Graves
"Socialize them and expose them to everything while they are young because once they hit 1-2 years old, their guard nature really comes out. You want them to know what is and isn't a threat." – Lilly Nguyen
"They have extra toes. That's normal. Do not chop them off. Also, they have a double coat, which keeps them warm in winter and cool in summer, so do not shave it off." – Sara Sandstrom
"Fur will become a fashion accessory and a condiment!" – Mona Kracke
"The shed is real. The tail can be destructive." – mandamoji
"No matter what a groomer tells you, do not shave your pyr! Their dual coat helps keep them cool in the summer." – hilkey2017
"They're diggers, so your fence needs to go underground a bit too!" – angel_the_pyr
"Be patient, be prepared to engage in an occasional battle of the wills, and love them unconditionally, and you will be rewarded by the best dog ever!" – Julia Cameron Petrohilos
Related: Great Pyrenees: Myth or Fact?
"Do your research. Be prepared to accept and work *with* the breed characteristics & personality, and not always try to train them out! Everybody seems a lot happier that way." – Jules Sevenky
"Something a knowledgeable pyr friend told me when we got Odin two years ago: Pyrs are NOT a breed for the first-time dog owner." – pyrmom_86
"This is not a high energy, go on adventures kind of dog. They're basically living rugs most of the time." – Jessica Young
"Don't be surprised if they don't like water/swimming/even cooling down on a hot day." – ourlittleislandfamily
"It would probably benefit potential owners to spend time with adult pyrs to see their personalities and what they are like. I feel like too many people want pyrs for their cute puppy looks and don't know what to do with them when they are bigger." – Michelle Kohler
"…Pyrenees are a working breed and need something to do, otherwise, they will find a way to occupy themselves, and often that won't be something you are happy with." – Colin Noel Vickers
One final piece of advice that sums everything up perfectly:
"The bigger question to ask is not, 'is the pyr a good fit for you', but, 'are you a good fit for the pyr'?" – Lee Morgan
We received a lot of input when we asked pyrents for their best tips for new or prospective pyr owners, so this isn't a comprehensive list. To read all the other amazing Great Pyrenees tips, head here on Facebook and here on Instagram.
What advice would you give to people considering a Great Pyrenees?
*Quotes have been edited for grammar and clarity.