This post may contain affiliate links. You won't pay a penny more, but you'll help keep It's Dog or Nothing running (websites are expensive!) and the floofs fed (they're even more expensive - as you well know) ;)

When you walk around with two big, fluffy, white dogs, people are bound to stop you and ask questions. I always love chatting about Mauja and Atka, but I tend to hear several comments over and over.
Can you determine which of these statements are Great Pyrenees facts?
Great Pyrenees eat a lot of food.
Great Pyrenees should be shaved to keep cool in the summer.
Great Pyrenees can live happily in a small house/apartment.
Great Pyrenees are massive dogs.
Great Pyrenees need to guard livestock.
Great Pyrenees can be colors other than white.
Great Pyrenees are easy to train.

Great Pyrenees eat a lot of food:
MYTH!
Whenever someone talks to me about Mauja and Atka, one of the first things they say is, "boy, you must spend a lot on food!" When I reply with, "It's really not as bad as you'd think," I get quite the quizzical look.
I completely understand. Pyrs are a giant breed, therefore they should eat like one!
Fact is, they really don't eat much more than your average medium-sized dog. Great Pyrenees have very slow metabolisms which enables them to thrive on less food than you would anticipate.
In fact, many pyrs will only eat 2-4 cups of dry food per day.
Due to their very slow metabolism, it can be extremely easy to allow your Great Pyrenees to become overweight. Many pyrs will actually regulate their weight on their own.
I have never had to cut back on the fluffies' food to keep them at a healthy weight. They eat what they need and leave the rest. However, not all pyrs are this way! It's absolutely essential to keep an eye on your pyr's weight to ensure he does not become too heavy.
It is also important to remember that their slow metabolism effects the amount of medication they will need. It can be very easy for a vet to use too much of a sedative for surgery. Always, always make sure your vet understands the metabolism of a Great Pyrenees before sedation.
Mauja was too heavily sedated for her spay and had a much more difficult time coming out of it and recovering. Thankfully, she ended up being just fine.
Great Pyrenees should be shaved in the summer to keep cool:
MYTH!
This is one of the most common Great Pyrenees myths. Please, please, pleeeease do not shave your Great Pyrenees in the summer. Your pyr has the double coat for a reason – it keeps him warm in the winter AND cool in the summer. But, how exactly?
I love this graphic for explaining how a double coat works, and wish I knew who created it!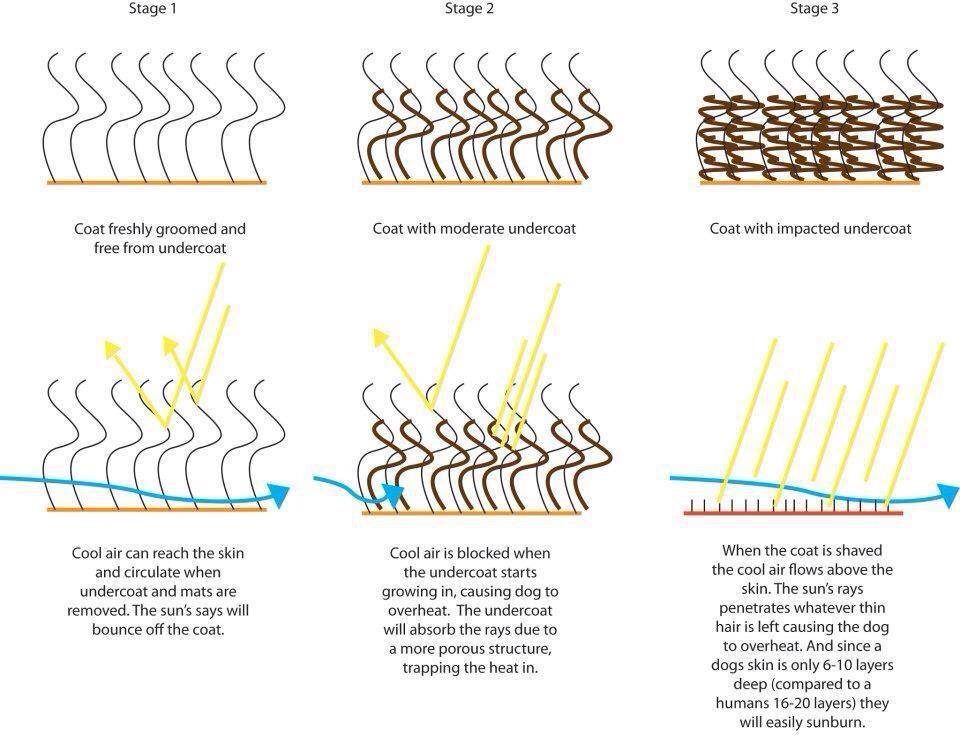 A Great Pyrenees has two different coats, depending on the time of year. In the winter, he grows a thick, fluffy undercoat to keep him warm. This undercoat blocks the cold air and allows him to effectively guard his flock.
Even when offered shelter, many pyrs will not want to use it.
When the weather starts to warm up, your pyr will shed his fluffy undercoat. Shedding season is rough guys, but make sure you brush frequently to keep the fluff contained!
As your pyr blows his coat and you help by brushing it out, your pyr is preparing himself for the warm weather. The lack of the thick undercoat will allow the cool air to reach his skin and properly circulate.
However, there is another important reason not to shave your Great Pyrenees in the summer. Pyrs have extremely fair, freckled, pink skin that burns very easily. The coat helps to protect your pyr from the sun's rays and avoid sunburn.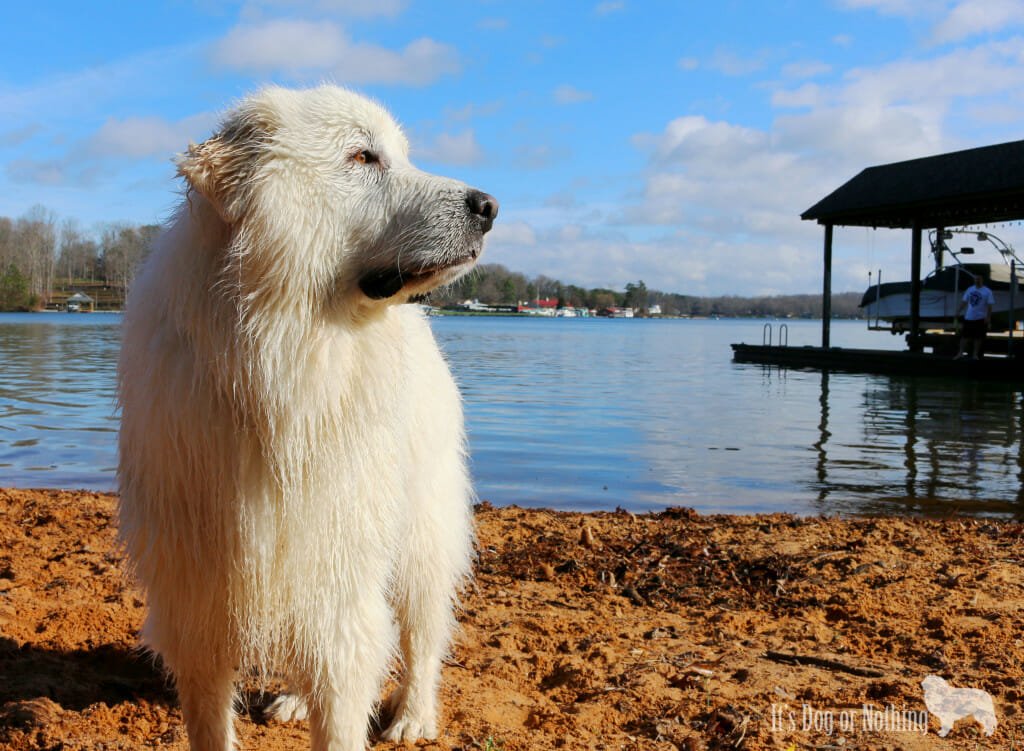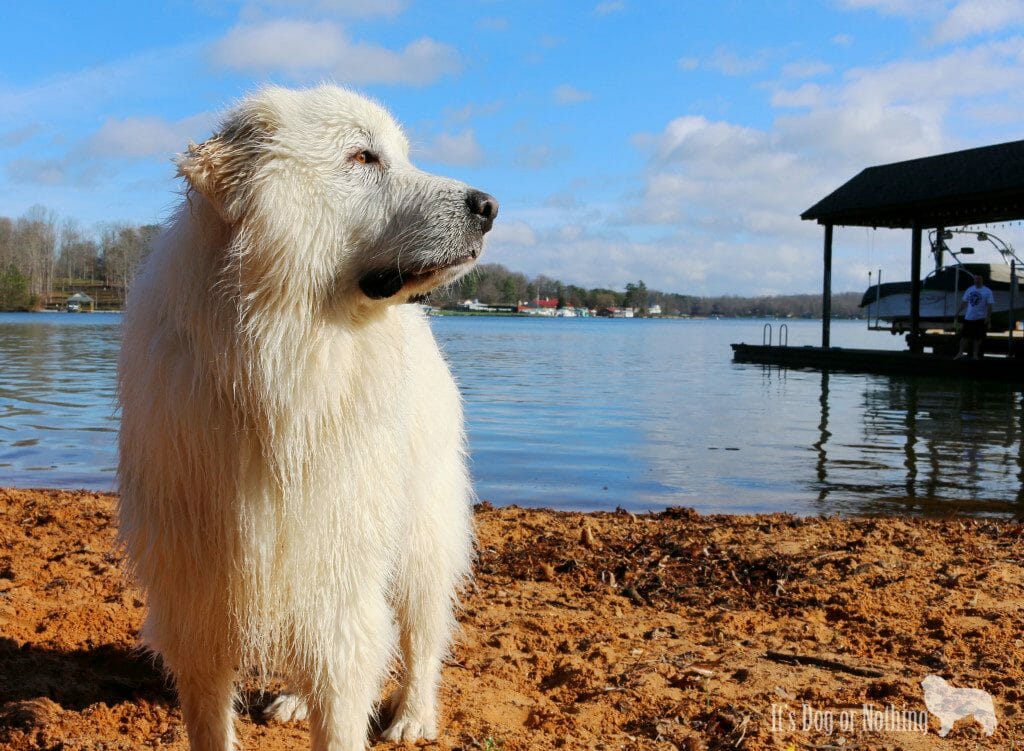 Great Pyrenees can happily live in a small house:
FACT!
It's a common misconception that because pyrs are such large dogs, they cannot comfortably live in a small house. Contrary to common belief, the Great Pyrenees does not need a large amount of indoor space.
Pyrs are fairly inactive indoors and prefer to snooze the day away. As long as you have a comfy couch or some cool tile floor, your pyr will be perfectly happy with that amount of space.
I am a believer that pyrs should have a yard because they typically LOVE being outside. That being said, they do not need one to be happy. By providing your pyr with adequate exercise, you can both live a happy life together.
Great Pyrenees are massive dogs:
MYTH!
Okay, yes – the Great Pyrenees is a giant breed, so he is obviously a very large dog. However, his size is amplified due to the thick, fluffy coat. You'd be amazed at how tiny they are under all that fluff!
According to the breed standard, a male Great Pyrenees should be between 27 and 32 inches at the withers and most will weigh between 110 and 130 pounds.
Pyrs are not overly muscular dogs and should not lumber. They need to be agile in order to adequately protect their flock. If you are unsure if your dog is overweight, here are a few tips.
Great Pyrenees need to guard livestock:
MYTH!
While there are some people that feel a pyr should always guard livestock since that's what he was bred to do, many will disagree. However, your pyr does need a job to do.
A Great Pyrenees without a job is a bored pyr who will most likely become destructive or bark incessantly. Pyrs are amazing for so many things other than just guarding livestock!
Pyrs make absolutely wonderful therapy dogs. Their gentle disposition makes them pyrfect for visiting both children and the elderly. Due to their gentle, tolerant behavior, many do exceptionally well with those with special needs.
There's nothing better than watching someone's face light up as they're snuggling a Great Pyrenees.
Many pyrs enjoy carting, nosework, and even agility! Find the activity that both you and your dog enjoy and get out there and be active. Not only will your pyr be much happier, but you'll build an incredible bond as well.
Great Pyrenees can be colors other than white:
FACT!
Well, kind of fact. The Great Pyrenees should be primarily white but can also have areas of gray, badger, reddish brown, or varying shades of tan.
These colors should cover no more than 1/3 of the dog's body and are usually seen on the ears, head, and base of the tail. A few spots on the body can also be seen.
The undercoat is typically white or lightly shaded. Either is acceptable for a Great Pyrenees. Mauja has very faint badger marks on her ears and the base of her tail, but Atka is completely white.
To see all the various shades of badger marks and how they change through a pyr's life, check out this post!
Great Pyrenees are easy to train:
MYTH!
Add it to the list of Great Pyrenees myths! I was out with Atka the other day when a man approached us to chat about Atka. I told him that Atka is a Great Pyrenees and he responded, "I heard they're easy to train!"
I literally snorted.
Probably not the most appropriate thing to do mid-conversation with a stranger, but oh well. I couldn't contain myself.
The Great Pyrenees is an extremely independent breed. They were bred to work on their own without the need for human direction. This leads them to be not so interested in training.
Even though they aren't typically interested in our obedience nonsense, it is still immensely important to work on training with them. Pyrs are exceptionally smart and need to be challenged.
Otherwise, you'll end up with a destructive, barky-pants. You'll both be miserable.
Find what motivates your pyr – maybe it's a special treat, snuggles, or a certain toy – and use that to motivate him! Always keep training sessions short as pyrs bore very easily and you'll both become frustrated.
What other common Great Pyrenees myths do you hear? Was there anything in this article that surprised you about the breed?