This post may contain affiliate links. You won't pay a penny more, but you'll help keep It's Dog or Nothing running (websites are expensive!) and the floofs fed (they're even more expensive - as you well know) ;)
I love the smell of my dogs.
Is that weird?
It's not like I shove my face in their fur for a sniff, but when I catch a whiff of Mauja and Atka, I'm immediately comforted. It's a relaxing scent that makes me feel calm.
Unfortunately, everyone else doesn't feel that way. While Great Pyrenees don't have typical "doggie odor", their smell certainly isn't invisible to the nose.
Now, a wet Great Pyrenees is a completely different story.
Mauja and Atka love, love, love their baby pool in the summer. I get it out almost every weekend for them to splash around. Their long, thick fur soaks up a lot of water and getting them dry isn't an easy task. They'd have to stay outside all night if I wanted them dry before allowing them inside. Let's face it; that's not happening.
I'm completely noseblind to the wet dog smell when I'm home with them. I only notice it when I leave the house and then come back in.
Has my house really smelled like this all day?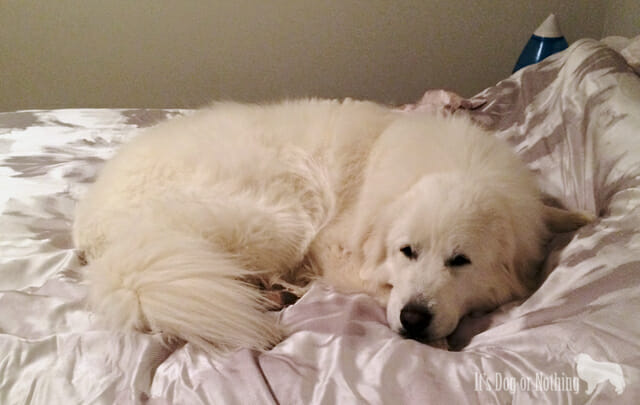 I would also like to mention that Mauja and Atka are not the only culprits of unpleasant smells in the home. I have a husband that likes to exercise at home. I'm sure you understand where I'm going with this…
What's a dog mom to do?
Try and mask the odor with a more pleasant scent? We all know that doesn't work. You end up with a lovely floral, wet dog smell.
I have to actually eliminate the odor if I want people to return to my home!
Febreze™ knows just how to handle any unpleasant smells in this dog mom's house by not masking, but truly eliminating the odor.
Apparently I'm not the only one who feels this way. According to a recent survey, pet odor is one of the most offensive smells in the home, even ranked above smoke odor. Furthermore, 60% of pet parents stated they would hate if their guests thought their house smelled like animal. I try and keep my house very clean (well, as clean as I can with two giant tumbleweed manufacturers) and I'd like the smell of my home to reflect that!
Atka and I decided to attend the Febreze School of Petiquette to learn about the best ways to keep this fluffy house guest ready.
Here are a few tips we learned:
Couch Tip – We not only allow, but encourage Mauja and Atka onto the couch with us (Oh and remember the sweaty husband I mentioned? Yeah, he likes to sit on the couch after a tough workout. Eww). The Febreze Fabric Refresher will instantly remove the dog/sweaty husband smell from the couch and pillows leaving behind a light, fresh scent.
Wet Dog Tip – When Mauja and Atka come inside from their pool party (or one just really needed that potty break mid rain), a few sprays of Febreze Air Effects will eliminate the soggy smell of wet dog and leave behind a light, fresh scent.
Car Tip – We hit the road with the fluffies a LOT and it always seems to rain during our trips. Not to mention the smelly bully sticks they get to help pass the time! A Febreze Car Vent Clip attached to the air vent will provide continuous odor removal. A few sprays of the Febreze Fabric Refresher will add an extra dose of freshness to the fabric seats.
A fluffy lesson in Petiquette:
[tweetthis]Master @Febreze_Fresh #Petiquette to keep your #dog loving house guest ready & odor free![/tweetthis]
I have my Febreze Air Effects, Fabric Refresher, and Car Vent Clip ready to tackle any odor and ensure my friends and family want to come back to my house!
Tell me I'm not the only one with this problem. What smells would Febreze eliminate from your home?