This post may contain affiliate links. You won't pay a penny more, but you'll help keep It's Dog or Nothing running (websites are expensive!) and the floofs fed (they're even more expensive - as you well know) ;)
Last week we posted about how to throw an Easter egg hunt for your dog on Victoria Stilwell's Positively. Well, on Easter Sunday we decided to try it out with the fluffies.
I had absolutely no idea how this was going to go. We planned on doing the hunt outside, but the weather was not conducive for being outdoors. Mauja and Atka have never done any nose work and Atka doesn't like to put in effort for treats. Seriously. I can barely get him to enjoy a treat out of a Kong. Lazy pants. Nick and I let them watch us put some smelly treats in the eggs, had them sniff the stuffed eggs, and then we put them in a stay while we placed the eggs.
It was time for the moment of truth. We gave them the release and waited to see how they would respond. Not surprisingly, Atka didn't even get up. Mauja got up, but wasn't quite sure what to do. Nick helped her find her first egg and then she did what she always does with her finds; walked to the back door. She wanted to take her treat outside to enjoy it!
After we convinced her to open the egg inside, the game clicked for her. She started searching around the house for eggs, easily finding them and cracking them open to enjoy the treats. Atka had no interest in participating and continued to relax on the floor. After Mauja found her third egg, we convinced Atka to get up. He meandered over to us with an "I'm only doing this to please you" expression. But then, this happened.
He opened his first egg! After that he was a bit more interested in participating and Mauja was really getting into it. With her nose sniffing the air, she quickly made it from egg to egg. She'd immediately crack the egg and move on, while Atka would find an egg and lie down to enjoy it. Much less efficient method 😉
Ready for picture overload? And…. go!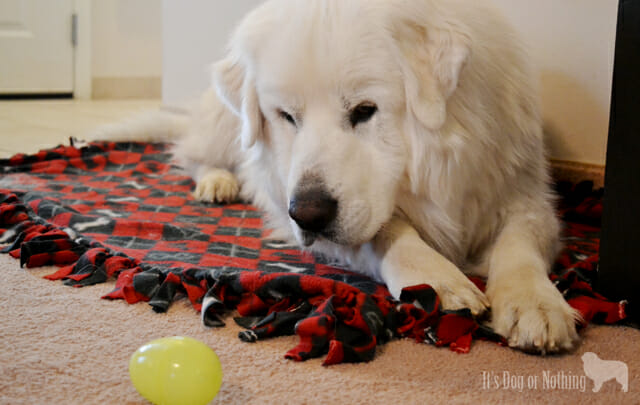 I really debated doing the egg hunt because I didn't know if Mauja and Atka would get into it. I'm so glad we did it and it's definitely going to become an Easter tradition! I've said before that I wished we had nose work in our area because I thought Mauja would enjoy it. Now I know I'm right!
Did you do an egg hunt with your dog?