This post may contain affiliate links. You won't pay a penny more, but you'll help keep It's Dog or Nothing running (websites are expensive!) and the floofs fed (they're even more expensive - as you well know) ;)
Poor Atka. He's had a rough few months. He got neutered, he's currently battling an eye infection, and now a broken nail.
The fluffies really enjoy their evening zoomies. They will chase, sprint, and twirl around the backyard for a good fifteen to thirty minutes. It's extremely rare for them to miss their zoomie session.
Last night was no different than any normal night. Mauja and Atka were happily panting away in the cool evening waiting for me to call them in for dinner. As they trotted inside, I noticed spots of blood over both of their coats. After a brief panic, I looked for the source of the bleeding and this is what I found.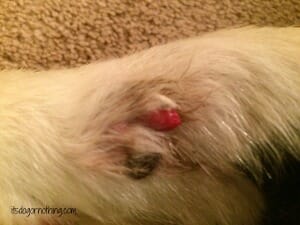 Atka's front dewclaw must have snagged as they were playing, which caused the toe to become exposed. I don't understand how he wasn't limping or crying as it looks incredibly painful. I was pretty sure I knew the proper course of action, but I always like to verify with my vet. Here's our advice for dealing with a broken nail.
Call your vet. I can't stress how important it is to call your vet before you decide on a course of action. Most vets are happy to give you information over the phone to ensure your pup gets the best care. If your vet believes it can be taken care of at home, follow the next few steps.
Remove any broken nail. Atka's nail had completely come off, so we didn't need to follow this step. The best way to remove the nail is with a dog toenail clipper. Take care removing the nail as your dog is most likely in a lot of pain.
Disinfect the wound. If the wound is still bleeding, gently hold a cloth against bleeding site until it has stopped. If the wound has clotted, use warm soap and water to remove any debris.
Bandage the wound. This step is vital to keep it from becoming infected. A sterile pad over the wound wrapped in gauze should keep any dirt out. Flexible "no hurt" tape is a great way to keep the gauze in place, but still allow comfort for your dog. The bandage should be changed once or twice a day to keep the area clean and to allow you to check the healing progress.
We were able to skip the vet this time because Atka is currently on antibiotics for his eye. Many times a vet will recommend a visit to decide if antibiotics are necessary. If the wound ever gets worse, make a vet appointment immediately! They will make sure your pup gets better in no time 🙂
Has your dog ever broken their nail?