This post may contain affiliate links. You won't pay a penny more, but you'll help keep It's Dog or Nothing running (websites are expensive!) and the floofs fed (they're even more expensive - as you well know) ;)
The other day, I was sitting outside enjoying the warm sun with Mauja and Atka drinking a glass of wine. After a few minutes, I noticed a very large pyr fur stuck to the inside of my glass, part of it in the wine. I reached in, pulled out the fur, and took another sip without a second thought. That made me wonder – what other confessions do I have as a Great Pyrenees mom?
I have pulled a piece of pyr fur out of the dinner I was cooking and then served it to family.
I have a heated blanket and a powerful space heater to keep myself warm in my own home. Yes, I'm naturally a cold person, but I keep the house at an extra level of cold for Mauja and Atka 😉
Speaking of keeping things cool – I blast the heat in my car so I can keep the windows down for the dogs.
I have spilled red wine on my white dog. Yes, her butt was pink for a few days.
I've been slightly disappointed when I couldn't find Halloween costumes to fit the fluffies.
I have gotten a hand cramp from trying to hold and operate their giant nail clippers.
I rarely do arm workouts at the gym anymore. Grooming the fluffies is all the arm strength training I need.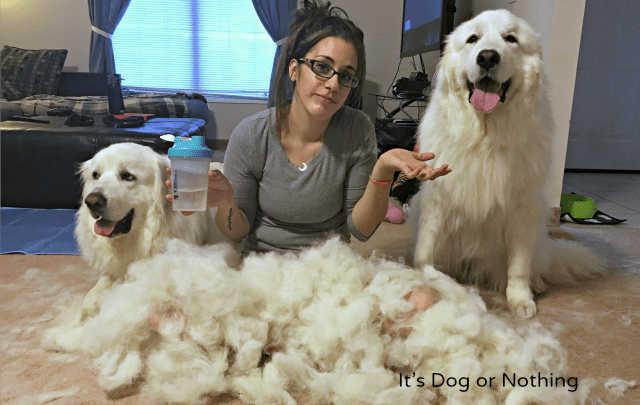 I've perfected the fake a laugh at the oh so original, 'What are you walking? A polar bear?!" comment from strangers (as well as calmly respond to these comments).
A pyr paw to the face left me with a bruised eye – that was tough to explain to people without giant breeds. Not to mention the destroyed arms due to a pyr paw with freshly cut nails.
I have turned down vacations because I couldn't find a dog sitter who could handle pyr traits.
I have stopped watching favorite shows because there were too many noises that made Mauja and Atka bark.
I have chased down strangers just to pet their Great Pyrenees (most recently through the streets of downtown Seattle).
I buy almost everything Great Pyrenees-related I find and am never let down by a pyr-themed gift.
I have purchased a house with the most important criteria being a large yard for the fluffies.
I have drool rags stashed strategically around the house. Although, they somehow always manage to find my pant leg first.
I've spent far too many hours searching for a pyr-sized pool.
Lint rollers are in each car and every bag I own, but I only use them if I'm going somewhere particularly important. Most of the time, I accept the fur as an accessory.
Our house doesn't have central air, and while it doesn't get too warm out here, I purchased a portable A/C unit to keep the fluffies extra cool and happy.
I have been dragged face-first through mud at the end of the leash by an overzealous adolescent pyr.
I cried a little when Mauja and Atka snubbed the toddler beds I spent weeks refinishing and sewing mattress covers for.
Alright, your turn. Fess up! What confessions do you have as a Great Pyrenees mom?