This post may contain affiliate links. You won't pay a penny more, but you'll help keep It's Dog or Nothing running (websites are expensive!) and the floofs fed (they're even more expensive - as you well know) ;)
Whether we're ready or not, the holiday season is here. Personally, I don't decorate or anything until the day after Thanksgiving, but I know there are a lot of early preparers out there so I wanted you to know about this ADORABLE product!
I wrote about One Dog Organic Bakery and their mission for transparency in the pet industry a bit ago and absolutely love everything they stand for. If you missed that post, go check it out before I continue!
I'll wait.
Okay, are we ready?
Good.
So let's talk about the Holiday Keepsake Tins from One Dog Organic Bakery. These tins are absolutely adorable and the perfect way to bring the holidays to your pups. The tins remind me of the popcorn tins that we used to get all of the time – they're definitely something you will want to reuse. However, the best part is when you open the tin for the first time.
OH. MY. FLUFFY.
It smelled like I was opening a tin of freshly baked cookies and I'm not going to lie, I almost took a bite. The fact that One Dog Organic Bakery has a human-grade facility made it all the more tempting! I figured I'd have some pretty angry fluffies if I ate their treats 😉
Mauja and Atka's tin had two flavors of treats: Pumpkin Spice and Gingerbread Men. Both of these flavors are grain, preservative, chemical, and artificial anything free. The treats smelled EXACTLY like Pumpkin Spice and Gingerbread so I was eager to see how the pups liked them.
Mauja and Atka are so silly when they try something new for the first time. I held out a treat for each of them and they both gave it a thorough sniff. They probably smelled the treats for 10 seconds before they gingerly (see what I did there?) took the treats from my hand and walked away with them. After a few more seconds of sniffing, they finally decided it was time for the taste test. As soon as they finished, they were both at my side begging for more. This time, there was a lot of excitement for the treat!
One Dog Organic Bakery has several flavors to fit the preferences of every dog. For their Holiday Keepsake Tins, they have:
Gingerbread Men
Apple Cinnamon Crisp
Ginger Snaps
Peanut Butter Honey
Peanut Butter Cranberry
Pumpkin Spice
Best part, all the flavors are grain free! Every Christmas, I say that I'm going to bake treats and put them in cute jars for the pups of my friends and family. Then I get busy and it never happens. Dog mom fail. This year I am definitely going to be sending these tins to the special pups in my life.
Mom, if you're reading this (HI MOM!), don't tell Mallie and Kai 😉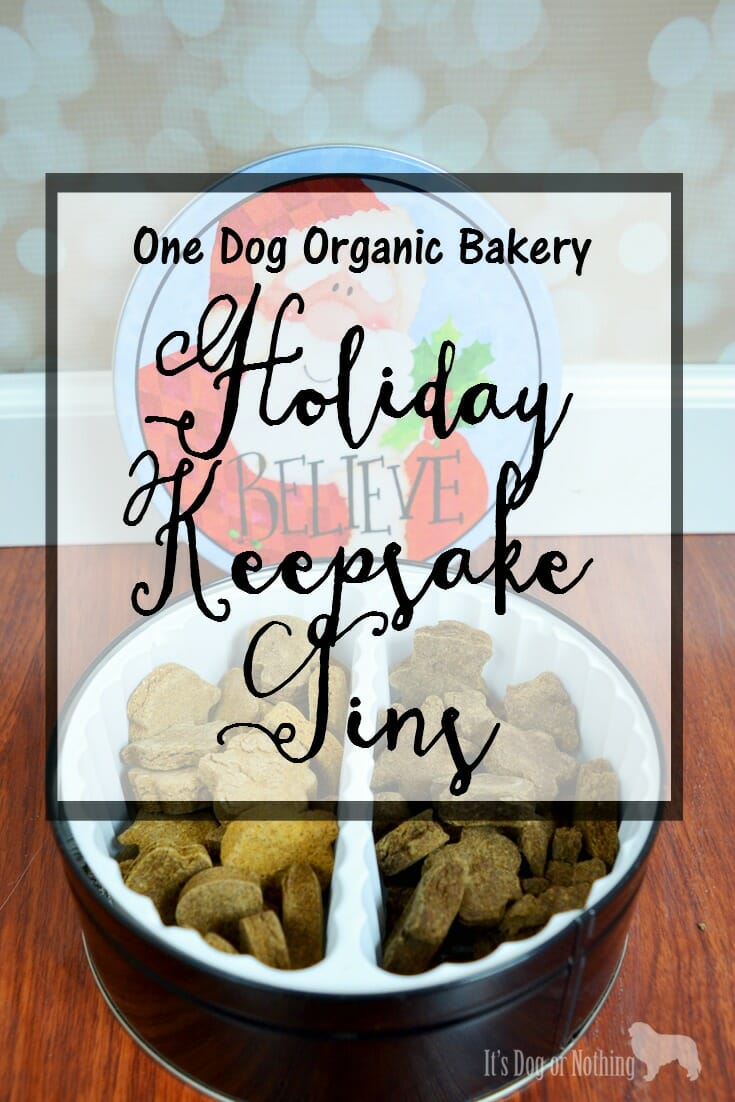 So what do you think? Are you going to add the Holiday Keepsake Tins to your Christmas list this year?
Disclaimer: It's Dog or Nothing was provided the product mentioned above in exchange for our honest opinion. Don't worry – an advertiser will never influence the content of this site and we only share products we believe in and feel you would enjoy. Thanks for supporting It's Dog or Nothing!