This post may contain affiliate links. You won't pay a penny more, but you'll help keep It's Dog or Nothing running (websites are expensive!) and the floofs fed (they're even more expensive - as you well know) ;)
Things have been rough in our house for the past few years. I've been suffering from several health issues, physical and mental, that have been interfering with every day life. These are issues that I've kept pretty quiet, but I'm learning the best way to move on is to talk about them. I feel like I've been trapped in a tiny bubble for the past few years. I work as a nanny, partly because I love it and partly because I don't have to wear "real clothes" to work. My friendship circle is limited because I'm sick a lot or at the doctors. Things have been rough, but there are three things that have kept me going: my husband, Mauja, and Atka.
I had this week off of work, so I've been trying to find ways to keep myself busy and out of the house. It's never good for me to sit at home all day. So yesterday, I decided I would take the pups on an outing. The more I thought about it, I decided not to take Mauja. She has anxiety in new places and I wanted this to be fun, not stressful for her. So she got to stay home with a nice, stuffed Kong in the A/C 🙂
There really aren't a whole lot of dog friendly options, but we decided to take advantage of the few places that are and the beautiful weather. First stop, Home Depot.
I love dog friendly stores because they are a great place to work on training. Atka is *fingers crossed* going to be a therapy dog one day. His training is going really well, but he definitely still has puppy excitability when he greets people. Dog friendly places are a great way to work with your dog on minding their manners in all environments.
This is probably kind of lame, but when we go to Home Depot I always try and design my dream home. Picking the kitchen colors, backsplash, and fixtures are always fun for me (I'm kind of obsessed with HGTV). Atka worked on his patience and self-control while I did my designing 🙂
He wasn't really sure why all the plants were inside, but he made sure to sniff them thoroughly!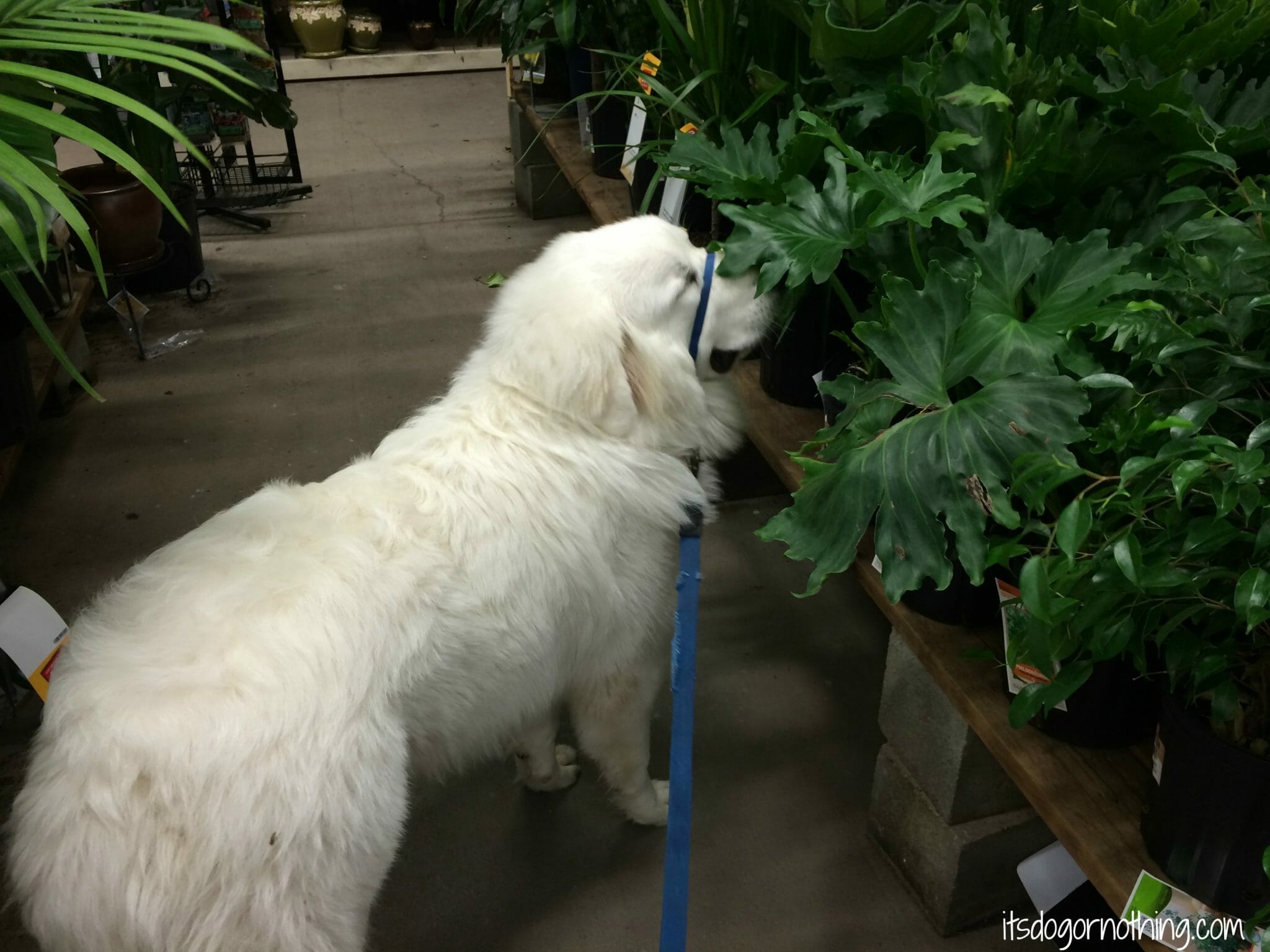 After Home Depot, we walked on over to Petco. Even though I'm in the process of making some beds for the dogs (tutorial to come soon), I decided to take a look at the beds they offered. Hey, they were on sale! I think buying dog beds is one of the most difficult things to purchase when you have a giant breed. They just never seem to fit!
We also had to make a stop in the treat aisle so Atka could pick something out. Don't worry, he got one for Mauja too 😉
After all of this shopping, I was needing some Starbucks. Have you ever had their Caramel Ribbon Crunch Frappuccino? So unhealthy, but soooo delicious! We went through the drive through so I wouldn't have to leave Atka in the car. At least five people came up to the car to pet Atka. Is that weird? Kind of. Atka knows what the Starbucks drive through means. Whipped cream!
Next stop? The park! I don't like going to the dog park in this area. It's a lovely park, but the owners that bring their dogs are extremely irresponsible. When we drove past, the park was empty, so I decided to let him run around for a bit. He loved getting to smell everything and have free roam in such a large area.
It was starting to get warm, so we decided to head to our last stop of the day: the river! I posted a couple weeks back about how much Atka absolutely loved the water so I'm going to make it a point to get him there more often. After we had been swimming for a bit, Atka started to bob under the water and swim back to the shore. It took me awhile to figure out that he was actually picking up rocks and sticks from the bottom of the river and putting them in a pile! What a silly boy.
When we got home, Atka passed out and slept for the entire night. I think he had a great bonding day and I loved getting to spend time with him. Dogs are such wonderful animals. They remind me to live life with the windows down and to stop and enjoy the scents and beauty around me. I think we can all learn something from our dogs.
What do you do to bond with your dog?
Today we're joining the Thoughtless Thursday blog hop hosted by Rukus the Eskie and Love is Being Owned by a Husky!