This post may contain affiliate links. You won't pay a penny more, but you'll help keep It's Dog or Nothing running (websites are expensive!) and the floofs fed (they're even more expensive - as you well know) ;)
Bully sticks are a staple in the fluffy house. We always have a large stash and Mauja and Atka are not pleased if they don't receive their evening chew. Currently, bully sticks are my favorite treat to give the fluffy butts and I'm sure they will be for quite some time.
Why Bully Sticks?
Bully sticks are natural. Bully sticks are a natural treat free of preservatives, chemicals, and dyes and fully digestible – a must for anything I give the pups.
Bully sticks help maintain oral health. They can prevent the build-up of plaque and tartar and stop cavity formation. They also help prevent periodontal disease and gingivitis. I definitely notice a difference in Mauja and Atka's teeth when they don't receive bully sticks frequently. I do brush their teeth, but hey – we're all human and I do forget sometimes! Bully sticks help fill the gap.
Bully sticks relieve boredom. Bored dogs can get into a lot of mischief since they don't have a proper outlet for their energy. A bully stick can help alleviate boredom and stress through chewing.
Bully sticks are high in protein. A high-protein, low-fat treat is great for overweight dogs and healthy weight dogs alike. Bully sticks also contain vitamins and minerals such as calcium and magnesium for strong bones.
Bully sticks come in a wide variety of shapes and sizes. There definitely isn't a "one size fits all" approach for bully sticks so it is easy to find one best suited for your individual dog. They can be small, long, braided, or even a ring. I like to mix up shapes and sizes to keep it interesting.
Why Raw Paws?
I was first introduced to Raw Paws Pet Food at BlogPaws back in May. I'm really not interested in feeding the fluffies raw, so I overlooked the company at first. After a wonderful chat with a member of the Raw Paws team (I don't remember much – the weekend was a whirlwind!), I pulled up the website to see what they had to offer, fully expecting to see a site full of things I wasn't interested in purchasing.
I was definitely wrong.
Raw Paws has an entire line of high-quality chews and treats. From antlers to bully sticks to freeze-dried treats, they have it all! Mauja and Atka are chomping on the 6 in Jumbo Bully Sticks, but you can also get standard thickness, 12 in, or bully rings. Most importantly, all products from Raw Paws Pet Food are free of anything artificial, USA raised, and USDA inspected. This gives you peace of mind in what you are feeding your beloved furbaby.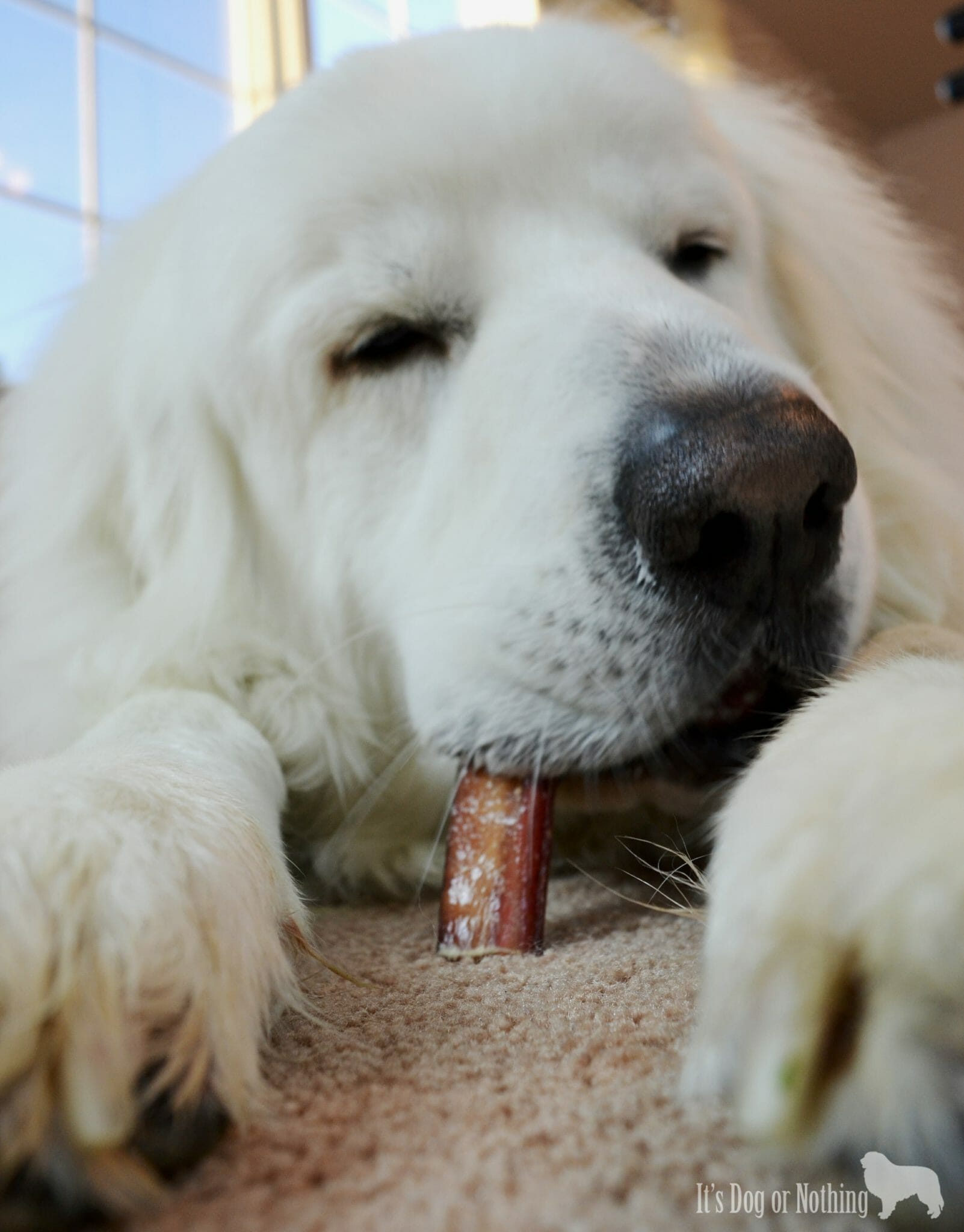 If you are interested in raw feeding, I highly recommend stopping by the Raw Paws site for some information and guidance. They make raw feeding easy and affordable for pet parents. You can also schedule a free consultation or have the Raw Paws staff help you create a custom meal plan for your dog.
For those of us not interested in raw feeding, there are several high-quality products we can purchase from Raw Paws Pet Food.
[tweetthis]Bully sticks are a great natural #treat for your #dog. @RawPawsPet has you covered![/tweetthis]
Want to try Raw Paws Pet Food bully sticks for your dog? Enter the giveaway below!
+a Rafflecopter giveaway
Disclaimer: It's Dog or Nothing was compensated to help spread the word about Raw Paws Pet Food. Don't worry – an advertiser will never influence the content of this site and It's Dog or Nothing only shares products we believe in and feel you would enjoy. Thanks for supporting It's Dog or Nothing!
About the giveaway: No purchase necessary. Giveaway is open to US residents only. Giveaway will run from October 6, 2015 through October 14, 2015. A single winner will be randomly selected by Rafflecopter (powered by Random.org) and notified via email. Winner will have 48 hours to claim the prize; failure to do so will result in forfeiture of the prize. Facebook and Twitter do not sponsor, administer, or endorse this promotion. Participants must read and agree to Rafflecopter's Privacy Policy before entering and participating in this promotion.